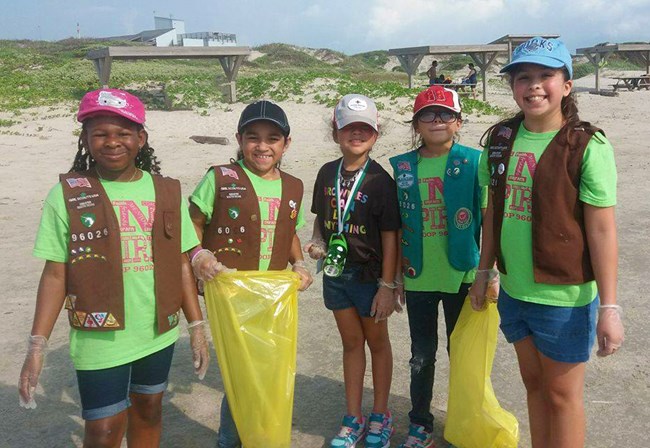 Junior Ranger Program:
The Junior Ranger program is intended for young people, from age 5 to 13- however, all ages are welcome and encouraged to become Junior Rangers! A free booklet is provided that contains activities to help the participant learn about what makes Padre Island National Seashore so special, along with the park's plants, animals, and unique history. A park ranger reviews the booklet and swears in the participant as an official National Park Service Junior Ranger. Junior Rangers are awarded a certificate and badge for completion of the booklet and an additional patch if they participate in a beach clean-up.
Click here to download Junior Ranger booklets and for more information on the Junior Ranger programs we offer!
Ranger-led Interpretive Programs:
The park gives a number of programs during the year, all of which can be enjoyable for families. These include beach walks, deck talks, evening programs, star parties, birding tours, and others. Some of these occur seasonally, so please read more about our Ranger-led Interpretive Programs or call 361-949-8068 for more information.
Participate in a Beach Clean-up!
You can make a difference in helping us keep our beaches clean! Free trash bags and gloves are available at the front desk of the Malaquite Visitor Center everyday between 9:00 am and 5:00 pm. After picking up trash, participants earn a special Adopt-a-Beach patch. Let's go clean the beach!
Every Kid in a Park:
Calling all Fourth Graders! If you are in the fourth grade (or home-school equivalent and 10 years old), you can participate in a fun online activity and receive a voucher for a free 4th Grade Annual Pass. Print out the voucher and take it with you and your family to a national park (including Padre Island National Seashore), where you can serve as an ambassador and introduce your family to the National Park System. This program, called Every Kid in a Park, begins September 1 of your fourth grade year and runs until August 31st of that year. National parks and other federal lands and waters all across America are excited to share their heritage with young people.
Become a Web Ranger!
Now you can experience a national park even if you are not able to visit one in person! Web Rangers is the National Park Service's site for kids of all ages. If you love our National Parks, Monuments and Historic Sites, this site is for you. If you are new to our National Parks, the Web Ranger program can help you experience how wonderful they can be. You can now customize your Ranger Station, earn more rewards, and play new activities! Visit the Web Ranger website to get started today!
Become a World Heritage Junior Ranger!
Want to know what a World Heritage site is and why they are so special? Find out these answers and more with fun, interactive activities for kids. Visit the World Heritage Junior Ranger site to begin!
Calling All Scouts!
Padre Island National Seashore is looking for Volunteer Scouts to do marine debris educational demonstrations at Malaquite Visitor Center. You can also participate in a beach clean-up and earn an Adopt-a-Beach patch. Hours of service will be applied towards the Scout Ranger or Girl Scout Ranger Resource Stewardship program. Five (5) hours of volunteer service will earn you a Resource Stewardship certificate and ten (10) hours will earn you an official NPS Resource Stewardship patch! We can also assist with coordinating a combined camping trip with your service project. Interested in the Resource Stewardship program for scouts? Contact our Volunteer Coordinator or call (361) 948-8068 for more information!
National Park Service Kids Page:
For additional games, songs, activities, Junior Ranger programs, and more, visit the National Park Service's special webpage just for young visitors!