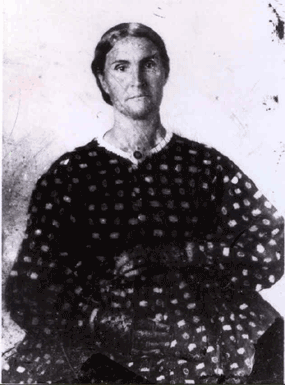 Hundreds of thousands of visitors come every year to the National Seashore to enjoy the natural beauty and serenity of the island. Most are probably too immersed in the experiences of the moment to give much thought to the island's past, but if they do, they probably envy the pioneers who settled the island prior to the Civil War, because they experienced the island in its final decades before its landscape and animal life were altered by those who followed. Still, one must be careful not to paint too idyllic a picture of those early times. Though life then had perhaps more beauty than today, it also had more dangers and hardships.
Little information exists about the hard lives of the island's settlers who lived here prior to the Civil War. There are a few local anecdotes, occasional official documents, scattered newspaper stories, and a few books penned by local authors, usually decades after the events they describe, but not much else. But among these sources one can find the names of at least some of the families that lived here, such as Lively, Curry, Chisum, and about a dozen more.
The family on which we currently have the most information is the family of Amos and Mary Lively, who moved here in 1859 with their four children, grown daughter and new son-in-law to raise cattle. Almost all the knowledge we have of the Livelys is based on copies of letters Mary sent to her family in the north, about half of which were donated to the park by one of her descendents.
Letters and other informal documents usually collected by families can be rich sources of information for historians. Through the Mary Lively letters we can tell what life was like for the people on the island and also find an eyewitness account of landscape, wildlife, and other aspects of nature that were not documented through other means. The Lively letters are particularly important because they give us a picture of the island during the Civil War and of the island's nature in the years before the ranching industry took hold and transformed the island into the near desert that the National Park Service bought and allowed to revert to its original, verdant state.
Based on what is written in and what can be surmised from Mary's letters to her family in Connecticut and Illinois, Mary, Amos, and their five children (ages 3-13) came to Texas in 1852 from New York via Alabama, where Amos had spent a few years working as a salesman. They traveled to Texas via ship, landing at Port Lavaca after suffering through a terrifying storm at sea and enduring terrible seasickness. They originally settled in Belmont northwest of San Antonio, but moved to Padre Island in December, 1859 after two more children were born and their daughter Josephine married a man named John Chisum, who decided to settle on the island and raise cattle. The move apparently wasn't solely to stay near their only daughter however, because Amos and Mr. Chisum had made a deal to raise cattle together on the island. Amos and Mary thought they would be able to have a prosperous life here and her letters talk of what a wonderful life they would live out here with plenty of oysters and fish to catch, cattle to raise, and salt to harvest and sell (which was a major industry in the Laguna Madre at that time). They moved to the island along with Mr. Chisum, stopping along the way at Oakville to buy 900 cattle.
We do not know precisely what the island's terrain was like during the years the Livelys lived here. It was probably not much different from today, but there would have been species then that either no longer exist here today (such as whooping cranes and wolves) or whose numbers are now severely depleted (such as reddish egret). Mary states in one letter that there were no trees here and that people obtained the wood to build their houses by using driftwood or lumber that washed ashore. Apparently at least a few trees existed however, because she talks of Amos building a rail fence, though there wasn't enough wood to build a picket fence to protect Mary's garden from rabbits. Neighbors were scarce; only six families lived here. There was no post office here and mail had to be picked up in Corpus Christi. The only way to mail a letter was to send it via boat.
Life on the island must have been a constant struggle. Coyotes occasionally attacked the Livelys' hogs and rabbits ate everything in their garden except the onions. Given the poor, sandy soil here, raising vegetables had to be tough in its own right. Amos tried to raise cotton at one point, but worried about worms ruining his crop. The salt they harvested from the Laguna was coarse and could not be sold without being crushed first, which was expensive, at least for the Livelys. Amos probably tried whatever he could to support his family. Nonetheless, during his efforts to earn a living Mary struggled to keep a good home and to send her children to both school and church. Ironically, the Livelys had moved to the island just before the Civil War began that brought an end to their homestead.
We do not know exactly why the Livelys left, but they left in 1864 after the Union occupation of the island. In spite of Mary's northern roots, the Livelys were Confederates. One son served in the First Texas Cavalry and Amos, according to family tradition, sold horses to the Confederate army.
In late 1863, Union forces occupied both Padre Island and confiscated whatever cattle they found for the use of their troops. So far no documentation has been discovered to state unequivocally that Union forces destroyed the Lively ranch. All we know for certain is that in a letter dated July 3, 1864, Mary's mother wrote to a Mrs. Grover (her relationship to the Livelys is unknown) that Mary and her family had left the South and had moved to Illinois and that, "Mr. Lively and his son-in-law were living very comfortable, before the war broke out but then they had all their means of living destroyed, so that they were one week without one mouthful of bread to eat."
If you have old letters or documents about the island, please talk to the museum coordinator about how you can help us build a history of the island.