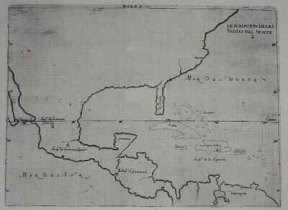 The first European to explore this area was Captain Alonso Alvarez de Pineda, who was commissioned by the Spanish Governor of Jamaica. In 1519, they left to explore the coast with four ships and 270 men in hopes of finding a water passage to the Orient. De Pineda mapped the entire coast of the Gulf of Mexico from Florida to Vera Cruz (in present-day Mexico), including what was then known as "la Isla Blanca" (the White Island), which later became known as Padre Island. Legend claims he also discovered a small bay on June 24, 1519, which he named for the celebrated day of the Catholic feast of Corpus Christi. After his voyage of exploration, de Pineda went on to become a conquistador and eventually mayor of Peru, where he died in 1534. De Pineda is known only to have passed through the area, though he probably saw the island from off-shore. There is no record of de Pineda having set foot on Padre Island.
The next European who passed through the area was Cabeza de Vaca, who was part of an unsuccessful exploratory expedition to what is now Florida in 1527. After Cabeza de Vaca and much of his company were marooned, he and several companions tried to return to Vera Cruz by sailing around the Gulf of Mexico in makeshift boats. Unfortunately, they were caught by a storm and shipwrecked somewhere near present-day Galveston.
Cabeza de Vaca and the few of his companions eventually became the slaves of the local indiginous peoples, with whom they had spent their first winter. Fortunately, the medical skills of Cabeza de Vaca were valuable to the natives and he was able to establish himself as a merchant between the two groups. As time progressed, Cabeza de Vaca lived and traveled with several native peoples along the coast and eventually made his way to the west coast, where he rejoined the Spanish who had been living in what is now California.
Although the exact route of Cabeza de Vaca's journey is unknown, based on clues in his writings in later years, it is believed that he passed through the vicinity of Padre Island. Like de Pineda, there is no evidence that he ever actually set foot on the island, though it is possible that he did.
In 1543, the remnants of Hernando de Soto's expedition that marched from Florida into what is now the American south came down the Mississippi to the Gulf under the leadership of Luis Moscoso (de Soto having died of fever a few weeks before). There they built crude boats with sails made from animal skins and sailed down the coast to Vera Cruz. They are known to have come ashore at several points along the way, and the descriptions of several of those locations are very similar to the terrain of Padre Island. Nothing explicitly states that they were on Padre Island, but it is quite probable that they did land on the island at least once.