Padre Balli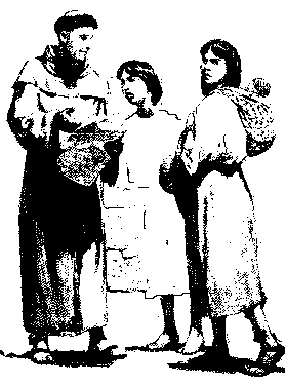 The first European settlement on the island was established around 1804, when Padre Jose Nicolas Balli founded a ranch named Santa Cruz de Buena Vista. This ranch was located about 26 miles north of the Padre Island's southernmost tip.
Nicolas Balli was born around 1768 and came from a wealthy family in the town of Reynosa, 70 miles from the mouth of the Rio Grande in what is now Mexico. His brother was the captain and chief justice of Reynosa, just as his grandfather had been. He likewise owned large tracts of land in the Rio Grande valley. Nicolas chose a different career path and decided to become a priest. He studied at the University of Salamanca, Spain, and was ordained a lay priest in 1790-91. However, his duties did not require a vow of poverty. Like his brother and grandfather, Nicolas also owned a large area of land. He apparently decided to increase his holdings, and sometime between 1800 and 1805, he applied to the Spanish crown for a land grant on the "Isla de Corpus Christi," the name the island acquired after the naming of Corpus Christi Bay in 1766. Previously, it had been known as "Isla Blanca" or "La Isla de los Malaquittas."
Padre Balli owned the island jointly with his nephew, Juan Jose Balli; Padre Balli owned the southern half of the island and Juan Jose owned the northern half. In addition to his island holdings, Padre Balli also owned large tracts of land in the Rio Grande River Valley and in the present-day border towns of Reynosa and Matamoros.
On the island, Padre Balli and his nephew, also Padre Balli's foreman, raised large herds of cattle, sheep and horses, never actually living there themselves. Two hired hands lived on the island and oversaw the operations. However, there is a report that Padre Balli sought refuge on the island for a short while during the Mexican Revolution, as he was a member of the Mexican aristocracy. Following the revolution, he is reported to have returned to his ranch, San Juan de los Estores, which was located 20 miles south of the mouth of the Rio Grande River.
The actual ranch structures were probably basic, thatched huts made of willow laths. Little is known of the ranch operations, but the stock probably grazed freely throughout the island, and were probably only collected once per year. It was not a small operation. However, in 1811, Padre Balli stated in his will that he owned 1,000 head of cattle.
According to the land grant from Spain in 1804, Padre Balli had to reapply for it to the Mexican government, after Mexico won its independence in 1821. Along with having his land grant confirmed, the property had to be surveyed in 1828. The survey report included this description: "The land was characterized by high sand dunes, some of which were covered with grass. In addition, one found a great number of willows, oleanders, short oaks, plenty of herbs known as anise, and many fresh water lakes or pools covered with reeds."
After Padre Balli's death later that year, Juan Jose chose his brother-in-law, Raphael Solis, to take formal possession of Nicolas' share of the island. In 1830, Juan Jose sold his (northern) half and one-seventh of the southern half of the property to Santiago Morales, who kept it until 1845, when he sold it to Jose Maria Tovar. Except for 7,500 acres, all of the southern half was eventually sold off by the seven heirs of Nicolas, until it came into possession by Nicolas Grisante.
Last updated: February 24, 2015