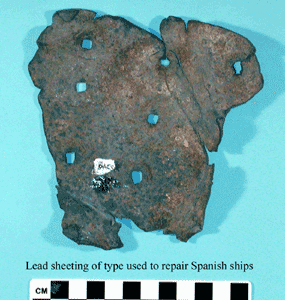 The National Seashore has a collection of over 7,000 objects of historic, cultural, or scientific interest as well as a small archives of historic documents.
Because the storm surges of hurricanes can pose danger to any facility constructed on the island, the museum collection is currently stored off-site at the Connor Museum at Texas A&M University-Kingsville. Although the storage facility is not open to the general public, researchers are welcome to use it. All visits to the facility, however, must be coordinated through the Padre Island National Seashore Museum Coordinator by calling the Malaquite Visitors Center at (361) 949-8068 or by sending an e-mail. All visits will be escorted by a member of the park staff.
To make the fullest possible use of our museum collection, in spite of its being in storage, the National Seashore is developing a Virtual Museum to enable e-visitors to learn more about the objects in the collection and how they are used in developing a knowledge base of the island. Because the lists and basic facts of Padre Island's history, flora, fauna, and geology are presented in the Nature and Science section of this website, the Virtual Museum (VM) will use photographs of objects from the museum's collection along with pertinent data to exhibit important facets of the National Seashore's museum collection, on which much of our knowledge of the island is based.
Please send requests for information to the park's museum coordinator.
The staff of the National Seashore hopes you enjoy the experience. Please note that development of the Virtual Museum is a long, complex process and therefore the parts of the VM will be placed on line as they are developed. Even then some may not be complete. This is because we are attempting to make as much information available to the public as possible in the shortest amount of time.
Please report any broken links to the museum coordinator.