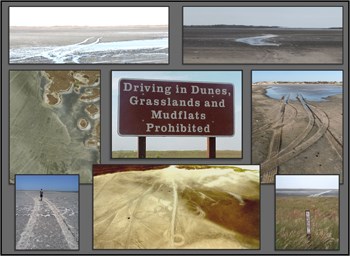 Stay Involved in the Management of Your National Parks
Padre Island National Seashore is proposing to reclaim areas within the park's wind-tidal flats that have been damaged by illegal off-road driving. The reclamation project would restore the surface hydrology of the tidal flats as well as help to restore the natural viewshed of the area. Reclamation of the wind-tidal flats would also offer an opportunity to monitor the effects of recovery efforts on this unique ecosystem. The experimental component of the reclamation would add to the knowledge base for future reclamation projects both within and outside of the National Seashore.


The areas under consideration for research and reclamation are those where driving is and always has been prohibited. Yarborough Pass and Back Island Road will in no way be affected. No roads will be closed for any time as a result of this project. See the link below for more information.


We rely heavily on your feedback to help guide the stewardship of America's great natural and cultural resources. By clicking on this "Documents Open for Comment" link you can read and comment on projects specific to Padre Island National Seashore using the Planning, Environment and Public Comment (PEPC) site. This National Park Service web-based software site is your portal to projects occurring at all of the National Park Service units. The PEPC site makes it easy for you to review planning and environmental documents, and allows you to post your comments on documents open for public comment. We encourage you to comment on the projects occurring at Padre Island National Seashore and explore other projects occurring throughout the nation by visiting the PEPC site, found at https://parkplanning.nps.gov.
You are invited to read the planning documents that are used for specific projects at the National Seashore.