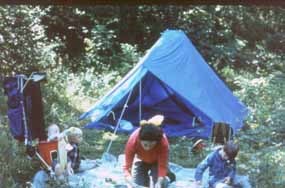 The park has a variety of overnight options. While the lodging at Big Spring is temporarily closed for renovations, there are cabins, hotels and Bed and Breakfasts in the nearby communities. Check the local Chambers of Commerce for info.

There are a number of campgrounds ranging from front country sites with electricity and running water, to more primitive sites, to the opportunity to camp on a gravel bar with no amenities except the night sky. Camping Information.

While you are welcome to picnic just about anywhere, there are formal picnic areas located at the major park developments. Canoe rental stores often carry convenience foods, and there are local restaurants in the surrounding communities.