Operating Hours & Seasons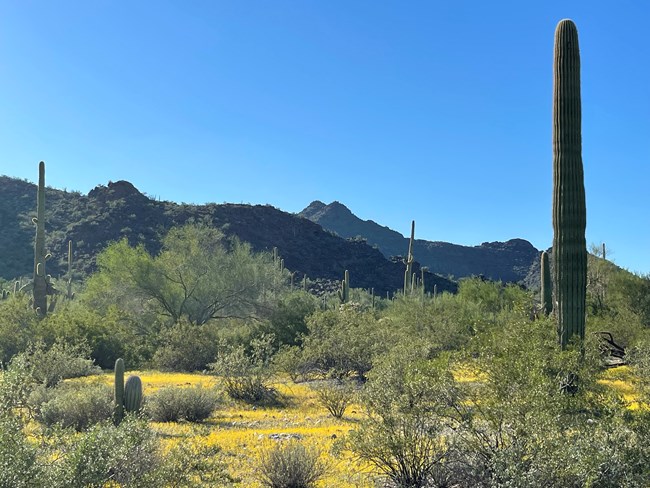 Monument Hours
Organ Pipe Cactus National Monument is open year-round, 24 hours a day. This allows visitors the pleasure of enjoying a beautiful sunrise at the beginning of the day and spectacular night sky viewing at night anytime!
Roads and Trails
All roads and trails in the monument remain open unless specified in the alerts at the top of each page or on the Alerts and Conditions page. During monsoon summer (mid-July through September), roads may be closed during the day for visitor safety because of flash flooding. Call 520-387-6849, ext 7302 or check with a ranger at the visitor center when you arrive to get current weather and road information.
Kris Eggle Visitor Center
The Kris Eggle Visitor Center is is open 7 days a week from 9:00 am to 5:00 pm, but is closed to observe the Thanksgiving and Christmas holidays. Entrance fees are paid at the visitor center or online at Recreation.gov.
International Travel
For visitors interested in international travel into Mexico, the US-Mexico Border hours are 6 am to 8 pm daily, and passports and Mexican car insurance is needed. For more information about international travel, please visit the International Travel page.
Seasons
Organ Pipe Cactus has no seasonal closures. The monument and campgrounds are open year-round, though monsoon rains may require certain roads are closed during a portion of the day for visitor safety. Each beautiful season offers a unique, spectacular experience in the Sonoran Desert for visitors to enjoy. Learn more about what to expect and experience during each season on our weather page.

Last updated: May 20, 2023