Weather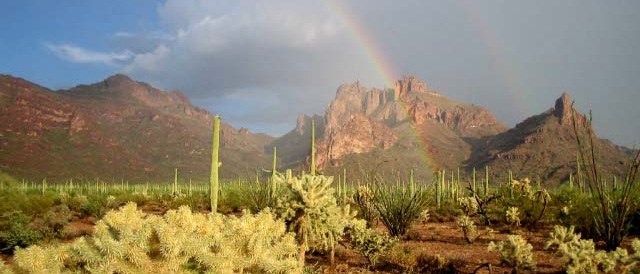 Current Weather and 7-day Forecast Information (National Weather Service)
Through the Year

Organ Pipe Cactus National Monument is where summer spends the winter... warm days (60s F) and chilly nights (40s F) are common during the late fall to early spring, with occasional rains. Most of our visitation happens between December and March. Consistent winter rains will produce gorgeous spring wildflowers. Early summer days are hot and dry with temperatures in the 100's and humidity below 10%. Late summer monsoons bring fantastic lighting and furious thunderstorms. Temperatures drop to 90s, however the humidity increases. Plan on getting up early and taking an afternoon siesta in the shade if you plan to visit us in the summertime.
Dress for the Weather

A wide-brimmed hat, comfortable clothing, and sturdy walking shoes or boots are necessary for anyone planning to hike. Sunscreen is a must. Hikers must always carry plenty of water. One gallon per person per day is recommended.
Temperature and Rainfall Chart For Organ Pipe
| | | | | | | | | | | | | |
| --- | --- | --- | --- | --- | --- | --- | --- | --- | --- | --- | --- | --- |
| | Jan | Feb | Mar | Apr | May | Jun | Jul | Aug | Sep | Oct | Nov | Dec |
| Average Max °F | 72 | 72 | 77 | 85 | 95 | 102 | 103 | 102 | 99 | 87 | 75 | 68 |
| Average Min °F | 42 | 42 | 46 | 52 | 60 | 70 | 75 | 74 | 68 | 57 | 46 | 39 |
| Average Days Over 100°F | 0 | 0 | 0 | 0 | 8 | 20 | 25 | 22 | 16 | 1 | 0 | 0 |
| Average Rainfall/(in) | 0.92 | 0.64 | 0.89 | 0.47 | 0.01 | 0.38 | 0.98 | 1.41 | 0.65 | 0.58 | 0.27 | 0.52 |
Last updated: March 31, 2012