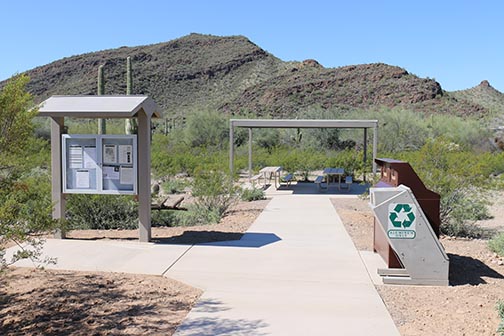 News Release Date:
March 6, 2015
Contact: Sue Walter, (520) 387-6849 x 7301
AJO, Arizona: Haveyou wondered what happens to the money you pay for the entrance or camping fee at Organ Pipe Cactus National Monument? The answer is actually simple compared to how other budget money enters and exits the federal overnment."All entrance and camping fees paid at Organ Pipe stay at Organ Pipe and are used on projects that have a direct impact on the visitors enjoyment or understanding of the park," explained Superintendent Brent Range.
In the past couple of months three projects were completed to enhance visitors picnicking experience at Diablo Canyon on Ajo Mountain Drive, Pinkley Peak on North Puerto Blanco Drive and at the Kris Eggle Visitor Center. New accessible walkways were installed at Pinkley Peak and the visitor center while a new shade ramada was constructed at Diablo Canyon. Future projects include an additional picnic area with shade at Bonita Ranch, replacing the ramadas at Pinkley Peak, installing fire rings at the Twin Peaks Campground and placing interpretive waysides at several of the historic areas.
Examples of other projects that have been completed in the past are the new exhibits in the visitor center, new interpretive waysides, trail maintenance and trash removal. "Many of the projects are developed as a result of visitor suggestions," said Sue Walter Chief of Interpretation.It takes three to five years once a project is approved before the project is seen by the visitor. The delay is getting the project onto a five year plan. New projects are usually placed behind projects that have been approved and are already on the plan.
If anyone would like to be added to an email list to receive the posting or to find out the current ranger program schedule or for more information about recreational opportunities at Organ Pipe Cactus National Monument please call the visitor center at 520-387-6849 x7302.
www.nps.gov
About the National Park Service: More than 20,000 National Park Service employees care for America's 407 national parks and work with communities across the nation to help preserve local history and create close-to-home recreational opportunities. Visit us at www.nps.gov, on Facebook www.facebook.com/nationalparkservice, Twitter www.twitter.com/natlparkservice, and YouTube www.youtube.com/nationalparkservice.