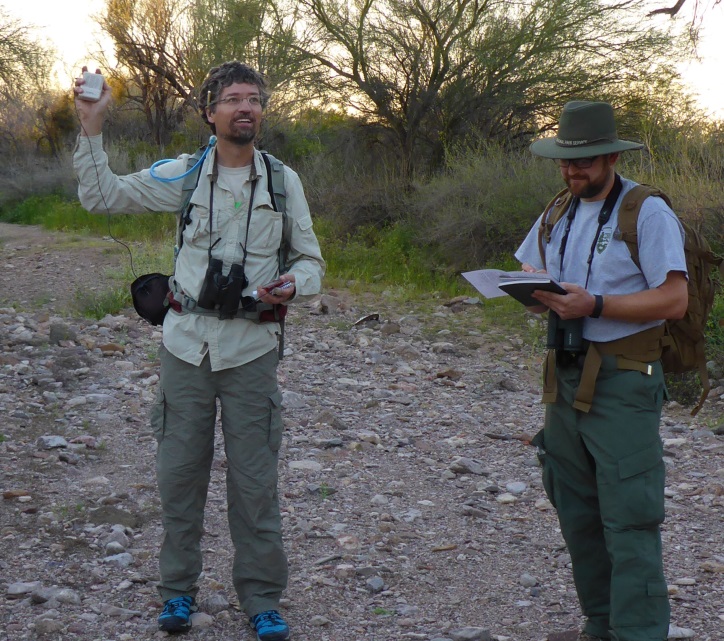 News Release Date:
April 30, 2015
Contact: Sue Walter, (520) 387-6849
AJO, Arizona: On March 14, 2015 a group of 20 scientists, birders, and volunteers teamed up with park biologists to conduct an owl survey at Organ Pipe Cactus National Monument. The survey was organized by members of the Arizona Field Ornithologists and scientists from the Arizona Game and Fish and National Park Service. The groups surveyed washes in the dawn and dusk hours conducting a "playback" survey to look for small owls. Five surveys were conducted in the early morning hours and five more were conducted in the evening. The team was successful at identifying 3 areas of occupied habitat, including a previously undocumented individual. The survey was made possible by new rules allowing access to the entire monument. This access allowed volunteers to survey areas of the park previously off-limits to the public. All participants stayed overnight in the group campground and spent their off hours hiking and enjoying the excellent birding opportunities within the Monument.
Research permits were obtained to use equipment to conduct the survey. Special care was taken to not harass or cause harm to the owls. Using this type of equipment requires a permit and training to be allowed on Park Service land. Park visitors are not permitted to use equipment to call in any animal for the protection of the animal and the visitor. If anyone has an interest in conducting research please contact the monument at 520-387-6849.
About the National Park Service: More than 20,000 National Park Service employees care for America's 407 national parks and work with communities across the nation to help preserve local history and create close-to-home recreational opportunities. Visit us atwww.nps.gov, on Facebook www.facebook.com/nationalparkservice, Twitter www.twitter.com/natlparkservice, and YouTube www.youtube.com/nationalparkservice.