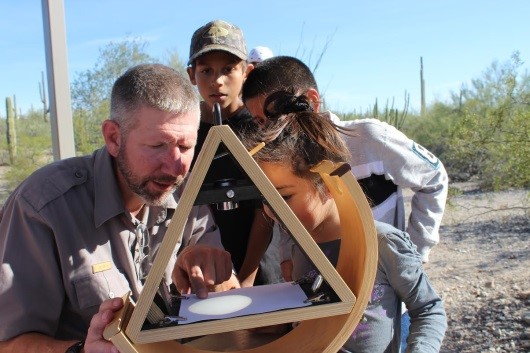 News Release Date:
February 19, 2016
Contact: Sue Walter, 520-387-6849 x7301
Ajo, Arizona - Organ Pipe Cactus National Monument hosted the 1st Family Fun Camp Out in the park on February 13th. Five Ajo families with children ranging from ages 1 to 14 attended and it was the first camping experience for many of the participants. This was the first opportunity for students to use the free Every Kid in a Park Passes they received during Education Ranger Anna Arsic's visit to Ms. Nyzelle Importante's 4th grade classroom at Ajo School.
The day began with a visit to the Kris Eggle Visitor Center, where students received their Junior Ranger Books, explored the interactive exhibits, and viewed the park film, "Where Edges Meet". The group then caravanned to the park's group campground to set up camp for the evening. The park loaned families tents, sleeping pads, and sleeping bags. All of the children were able to document their camp out experience with cameras loaned by Cabeza Prieta National Wildlife Refuge.
"I think I might want to be a photographer when I grow up!," said 2nd grader John Padayhag. All participants received a free Organ Pipe Cactus water bottle donated by Western National Parks Association (WNPA).

The group hiked with Ranger Anna along the Desert View Trail, where they learned about plants and animals of the Sonoran Desert Ecosystem. Upon returning to camp, Night Sky Ranger Joey Castle taught the group about the sun, allowing the students to view sunspots using a solar telescope with a strong solar filter.
Families worked on their Junior Ranger booklets together, explored the campground, and played a spirited game of dodgeball with AmeriCorps volunteers from the National Civilian Community Corps Southwest Region. Everyone enjoyed a BBQ dinner, provided by WNPA before continuing the next round of activities.

The campers attended an evening program on Sonoran Desert Sunsets presented by Interpretive Park Ranger, Sydney Stover. After the program they hunted for scorpions with the use of black lights. Ranger Joey then brought out the telescope. "Dad! I saw the craters of the moon!" shouted excited 2nd grader, Vincent Pacheco. To end the evening, Ranger Sydney took the group on a tour of the stars, using a laser pointer and stories from Greek mythology to bring the constellations alive.
The group slept snugly in their tents, woke up to break down camp, eat breakfast provided by WNPA, and were sent off with their Junior anger Certificates and Night Sky Ranger patches. "The Camp Out went better than I ever could have imagined. All of the families were wonderful, and really seemed to have a great time!," said Ranger Anna.
The next Family Camp Out will be schedules for Saturday, April 2nd. Please call 520-387-6849 X7305, or email anna_b_arsic@nps.gov to sign up or for more information.