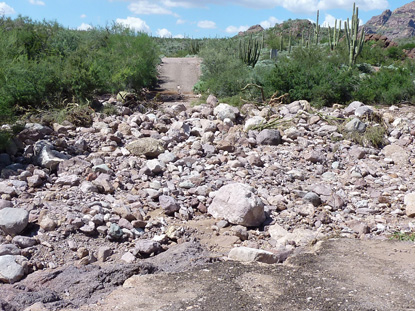 News Release Date:
October 5, 2012
Contact: Sue Walter, 520-387-6849 x7301
AJO, AZ - Ajo Mountain Drive at Organ Pipe Cactus National Monument is reopened after being closed since September 10. The monsoon storms arrived in mid-July bringing much needed rain. As the monsoon season progressed the Ajo Mountains experienced a number of typical storms, however a few were on the rare side dumping significant amounts of water which moved rocks and debris through the washes in Organ Pipe Cactus National Monument. The maintenance crew had just finished repairing Ajo Mountain Drive from the prior storm when the big storm hit in the evening on September 10. The rising water level in washes was high enough to close Highway 85 to all traffic. Rain came down in torrents as rain gages recorded the event. At 8 p.m. the gage at Alamo Canyon recorded 2.71 inches and Bull Pasture was almost as impressive at 2.1 inches. By 10 p.m. over 3.5 inches had fallen at Alamo Canyon and almost 2.5 inches at Bull Pasture. The water had no time to seep into the ground and produced flooding in the washes and over the roads. The average rainfall in September is less than one inch. Since January 1, 2012 Alamo Canyon has received over 18 inches of rain and Bull Pasture over 17 inches of rain. Yearly rainfall average is 8.8 inches.
On September 10 enormous amount of debris came down Alamo Wash during the night with a significant amount of water and debris coming from the North Fork. The larger contribution to the flood may have been Tillotson Wash, which drains Arch and Boulder Canyons and the east-facing slopes of the Diablo Mountains. That night, a portion of the flood flow turned south through the Diablo Mountains and crossed the highway at mile 66.5. During major flood events such as this, rubble can plug up the old channel and can force water to flow in new directions. This aggradation happened at a number of points along the channel in Alamo Wash. The flooding created some new channels and deepened older ones.
Kuakatch Wash also changed its channel on September 10, with 520 feet of the barbed wire fence on the east boundary removed by the flood and all riparian trees are gone. The channel is changing where it crosses the highway, but it is changing more elsewhere upstream and downstream.