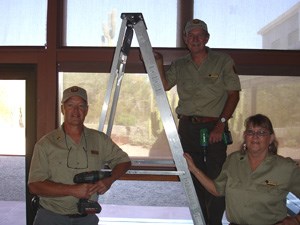 Volunteers In Park (VIP)
Every year over 100 volunteers contribute thousands of hours of service to Organ Pipe Cactus National Monument. Groups from organizations and companies volunteer for a few days, while individuals and couples may stay for months.
Volunteer assignments vary depending on the positions available, your skill and experience, and the number of weeks you are able to commit. Volunteers are needed the most during late fall through early spring. Current volunteer opportunities are listed at the bottom of this page.
Learn more about National Park Service volunteer opportunities at https://volunteer.gov/ or visit https://www.facebook.com/npsvolunteers.