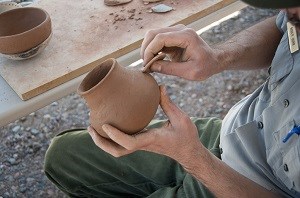 SOAR Celebrates at Events Across the State
March, 2017

March Archaeology and Heritage Awareness Month is always a fun time for our NPS sites in Arizona. Many of the 22 sites were founded specifically to protect their cultural resources, and all 22 parks boast either historical or pre-Columbian cultural sites. This year we were able to celebrate in myriad ways.

Matthew Guebard, Chief of Resources for the Southern Arizona Office (SOAR), presented on the history of Tuzigoot National Monument at the Western Archaeological and Conservation Center (WACC), during their week of talks and tours. He touched on the men and women who fought to conserve Tuzigoot and Franklin Roosevelt's New Deal, "alphabet soup," programs that both got the US back to work during the Great Depression, and provided the labor to excavate and reconstruct Tuzigoot.

The SOAR Interpretive Team also got out and about. This year SOAR, Montezuma Castle and Tonto National Monument rangers staffed two tables at the Tucson Festival of Books. Rangers talked to more than 1,800 people, telling them about archaeology at our parks, the cultural resources they can visit, and sending them on their way with postcards, posters, and even view-masters with photos of Montezuma Castle. Kids and parents alike got to try their hand at drilling holes with a pump drill, and digging for "artifacts" in our pretend archaeology excavation.

Finally, Tonto National Monument celebrated the month with their Heritage Days. Staff from SOAR and WACC were excited to help out at this annual event. The event featured a fee free weekend including prehistoric technology demonstrations such as pottery making, fire starting, stone tools, and flintknapping. Apache crown dancers performed in the Monument's outdoor Auditorium.