News Release
Man sent to jail for child pornography at Padre Island
Date: July 13, 2015
Contact: Investigative Services Branch, (202) 379-4761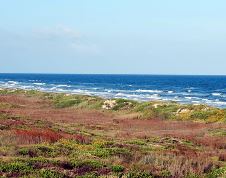 Man sent to jail for child pornography at Padre Island
What began as a search and rescue (SAR) mission in Padre Island National Seashore ended up with the felony conviction of a man on child pornography charges. The US Coast Guard reported the initial incident to the park on January 15; the location and origin of the SAR raised the immediate suspicions of the responding park ranger.
The resulting investigation spanned four months and involved several agencies, including US Customs and Border Protection's Office of Air and Marine and the Corpus Christi Police Department. The park ranger also collaborated with the NPS Investigative Services Branch (ISB), where he'd previously participated in the Special Agent Detailer program.
Investigators found that Andrew G. Ybarra had pornographic images of children in his possession. He was also in possession of controlled substances. In July, he pleaded guilty to five counts of possession of child pornography.
Ybarra will serve two years in prison and must register as a sex offender for the rest of his life.
Last updated: December 2, 2015