News Release
National Park Service Awards Recognize Exemplary Service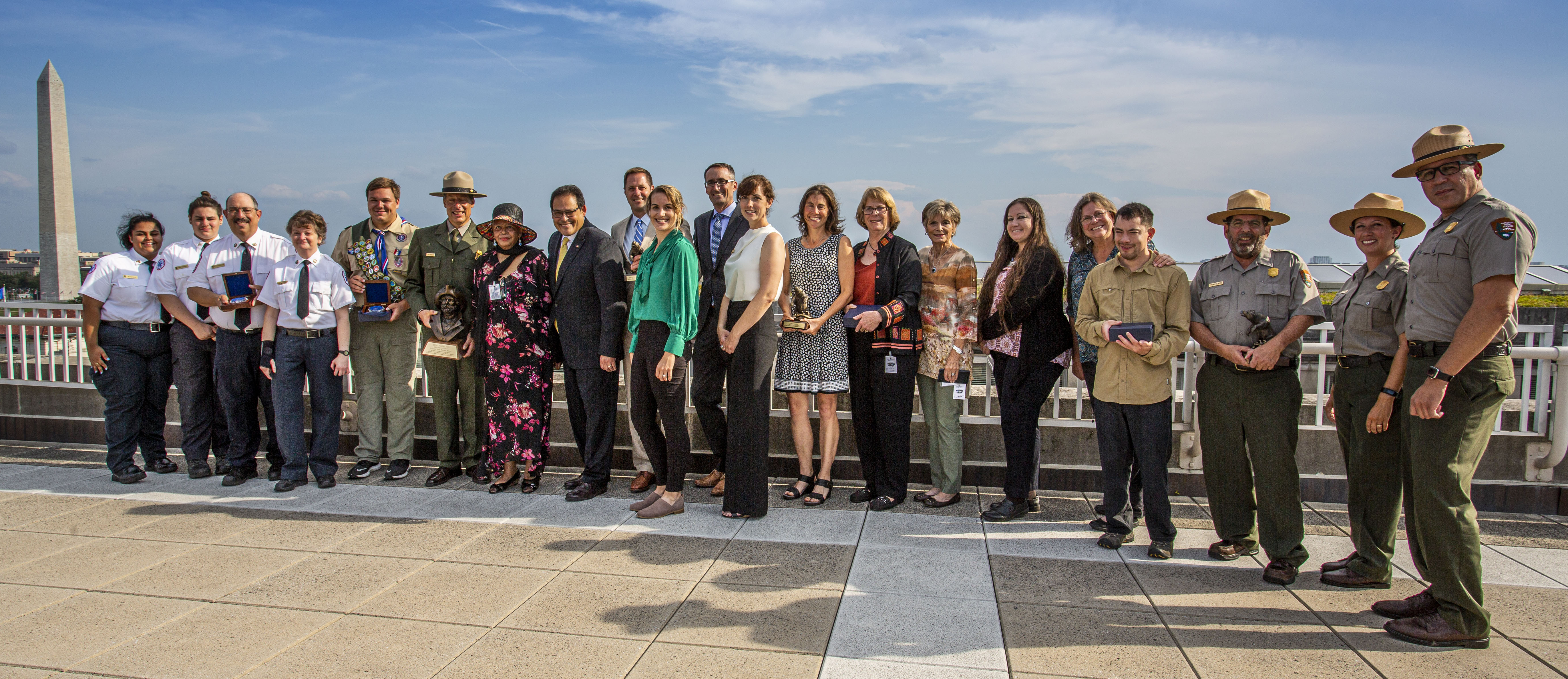 News Release Date: August 23, 2019

Contact: NewsMedia@nps.gov
2018 Harry Yount, George and Helen Hartzog, and Wes Henry Awards Presented  
WASHINGTON – On Aug. 22, the National Park Service (NPS) and the National Park Foundation honored park employees, volunteers and partners who have made significant contributions to the preservation, protection, and enjoyment of national parks.

"These award recipients have exhibited extraordinary dedication to the National Park Service," said National Park Service Deputy Director P. Daniel Smith. "These groups and individuals eagerly share unique talents and skills to enhance park operations and provide safe and memorable park experiences for visitors from around the world."

National Park Foundation President and CEO Will Shafroth said, "It's an honor to recognize these award recipients who embody the spirit of volunteerism, and who demonstrate such tremendous energy and dedication for the benefit of our national parks and park visitors."

Following are the recipients of the 2018 Harry Yount, George and Helen Hartzog, and Wes Henry Awards.
The Harry Yount Park Ranger Award
Jack Hoeflich from Yosemite National Park
The Harry Yount Award for Excellence in the Art of Rangering is named for the world's first-known park ranger who patrolled Yellowstone National Park in the 1880s. The annual award honors a ranger who consistently excels in the performance of duties that serve visitors and protect the natural, historical and cultural resources of parks. The recipient of the 2018 Harry Yount Award is Jack Hoeflich of Yosemite National Park.

Hoeflich serves as a park medic, structural firefighter, wildland firefighter, technical rock rescue instructor, law enforcement officer, emergency services manager, supervisor, and helicopter and swift ware rescue technician. His incredible intellect, physical fitness, stamina, climbing prowess, and passion for helping others align perfectly with his career of providing assistance to visitors to Yosemite's beautiful and rugged landscape. Hoefllich has participated in and led some of the most challenging and time critical rescues ever undertaken by the National Park Service, including saving a severely injured climber from the face of El Capitan in 2007.
George and Helen Hartzog Award for Outstanding Volunteer Service
The George and Helen Hartzog Awards for Outstanding Volunteer Service are named for a former National Park Service director and his wife. In 1970, Hartzog started the agency's Volunteers-In-Parks (VIP) Program. Last year, more than 300,000 volunteers contributed over 7.2 million hours of service, assisting in virtually every aspect of National Park Service operations. The work they performed is valued at $179 million. The awards recognize the time, talent, innovation, and contributions to national parks through the VIP Program. Following are the recipients of the 2018 Hartzog Awards:
Hartzog Individual Volunteer Award
Susan and Matthew Trucano from Denali National Park & Preserve
As a member of the non-verbal community, Matthew communicates wilderness in ways most visitors have not experienced, often teaching people how to use American Sign Language to denote sightings of the park's "big five" animals- bear, moose, caribou, sheep, and wolf. Matthew serves alongside his mother, Susan, who uses her skills as a former professional educator to convey information, safety messages, park highlights, and Leave No Trace principles through a variety of learning methods. They are renowned for their incredible customer service, approaching every task and visitor with smiles, warmth, and passion for Denali. This mother and son have teamed up to share their enthusiasm and love for Denali by donating more than 10,000 hours of time over the last five years.  
Hartzog Youth Volunteer Award
Thomas McWithey from Colonial National Historical Park
In pursuit of obtaining the rank of Eagle Scout, McWithey demonstrated leadership, active engagement, and stewardship through the completion of a volunteer service project. Thomas led 17 members of Boy Scout Troop 306 from Yorktown, Virginia, in the construction and installation of fifteen bluebird boxes in a designated nesting area along the Colonial Parkway. McWithey also navigated through the government paperwork associated with the project and partnered with the Virginia Bluebird Society to obtain advice and funding. Led by his dedication, perseverance, and resourcefulness, the group donated more than 150 hours and completed this complex project in an outstanding manner.
Hartzog Volunteer Group Award
Protectors of Tule Springs from Tule Springs Fossil Beds National Monument
This group of community citizens has donated more than 40,000 hours of service in its tireless effort to permanently protect the area of what is now Tule Springs Fossil Beds National Monument in Las Vegas. Their ongoing commitment to preserve the area's unique paleontological, archeological, and biological resources include developing and implementing public outreach and project-based events and activities, such as visitor  materials, guided hikes, service projects, and community events.
Hartzog Volunteer Youth Group Award
Montgomery County First Aid Unit, Explorer Post 742 from the National Mall and Memorial Parks
This unit introduces youth to the emergency medical services profession, provides training in medical care, develops leadership skills, and provides a service to the community. Under the supervision of experienced adult volunteers, youth between the ages of 15 and 21 years receive training, certification, and experience in emergency medical care. The group assists the National Park Service by providing care and first aid services at heavily attended special events such as the National Cherry Blossom Festival, the White House Easter Egg Roll, and the National Independence Day celebration. Although the majority of incidents involve minor wounds or weather-related issues, the group is always prepared for major emergency situations and has been credited with saving lives.  
Hartzog Park Volunteer Program Award
In My Backyard Program in Seattle Area National Park Sites
The In My Backyard Program is a conservation-based youth leadership development and outreach program based out of Klondike Gold Rush National Historical Park. Through numerous partnerships with civic groups, educational institutions, other museums, and non-profits, the participants receive career and skill building opportunities. In addition, the youth develop audience-centered visitor services that reflect the area's demographics to help community members better relate to the park. This has resulted in program participants and community members forming lasting connections to their national parks.
Hartzog Enduring Service Award
Marietta Patterson from Brown v. Board of Education National Historic Site
Park Volunteer Marietta Patterson organized a massive project to collect the oral histories of community members who were involved in the landmark Brown v. Board of Education lawsuit. Her determination and hard work led to the creation of the nationally aired documentary "I Just Want to Testify." To create the film, she examined testimony, conducted primary research, organized community workshops, reunited students, recruited media coverage, and secured a grant. Her ability to mentor, mold, encourage, and convince people to tell their stories resulted in this chapter of the history of segregation and integration being preserved orally and on film.
Wes Henry Excellence in Wilderness Stewardship Award
The NPS Director's Wes Henry Excellence in Wilderness Stewardship Awards are the annual recognition of outstanding contributions to wilderness stewardship through interpretation and education; management of natural, cultural, and social resources; planning; protection; and/or maintenance operations.
Wes Henry Individual Award
Adrienne Lindholm, Wilderness Program Coordinator for Alaska  
Lindholm champions wilderness stewardship and wilderness character preservation in Alaska's parks and has been an integral team member on national wilderness work groups, currently serving as the chair for the NPS National Wilderness Leadership Council. She has raised awareness and understanding throughout the state by coordinating the Backcountry and Wilderness Advisory Group and fostering interagency relationships. She has played an important role in every backcountry and wilderness plan in the region, including serving as a core team member/author of the Denali and Lake Clark National Parks & Preserves plans.
Wes Henry Team Award
Fire Island National Seashore Breach Management Plan Team
In 2012, Hurricane Sandy impacted a wide swath of New York and New Jersey, including Fire Island National Seashore. The hurricane created a breach in the barrier island within the Otis Pike Fire Island High Dune Wilderness, and a team was created to determine how to best address the breach. The team worked over a period of six years to shepherd the Fire Island Wilderness Breach Management Plan and the Environmental Impact Statement Plan through planning, public comment, compliance processes, and ultimately to a Record of Decision by the agency. The strong interdisciplinary team worked collaboratively to achieve the NPS mission while navigating difficult questions around ecology, wilderness stewardship, wilderness character, naturalness, and management objectives.
Wes Henry Non-Government Partner Award
Leave No Trace Center for Outdoor Ethics
The non-profit Leave No Trace Center for Outdoor Ethics (LNT) has had a highly significant and positive impact on preserving wilderness character throughout the NPS and other public lands. In 2019, LNT is celebrating its 25th anniversary of promoting and inspiring responsible outdoor recreation. The organization reaches over 15 million Americans and dozens of countries each year with conservation initiatives, education, training, research, and outreach that helps visitors reduce their impact while enjoying the outstanding recreational opportunities offered in public lands, including national parks.

www.nps.gov
About the National Park Service. More than 20,000 National Park Service employees care for America's 419 national parks and work with communities across the nation to help preserve local history and create close-to-home recreational opportunities. Learn more at www.nps.gov.

About the National Park Foundation. The National Park Foundation is the official charity of America's national parks and nonprofit partner to the National Park Service. Chartered by Congress in 1967, the National Park Foundation raises private funds to help protect more than 84 million acres of national parks through critical conservation and preservation efforts and connect all Americans with their incomparable natural landscapes, vibrant culture, and rich history. Find out more and become a part of the national park community at www.nationalparks.org.
Last updated: August 23, 2019