Volunteers dedicate their time to bring unknown stories to life . . . and save lives.

George B. Hartzog, Jr. served as National Park Service Director from 1964 to 1972. He recognized the need to make it easier for citizens to donate, without compensation, their time and talents to the NPS and created the Volunteers-In-Parks Program. These awards were created to honor volunteers' hard work, draw attention to their vast skills and contributions, and to stimulate the development of innovative projects and volunteer involvement. This year we honor the following individuals and groups for their extraordinary efforts in 2018. Visit our Volunteer Facebook page to view the award ceremony.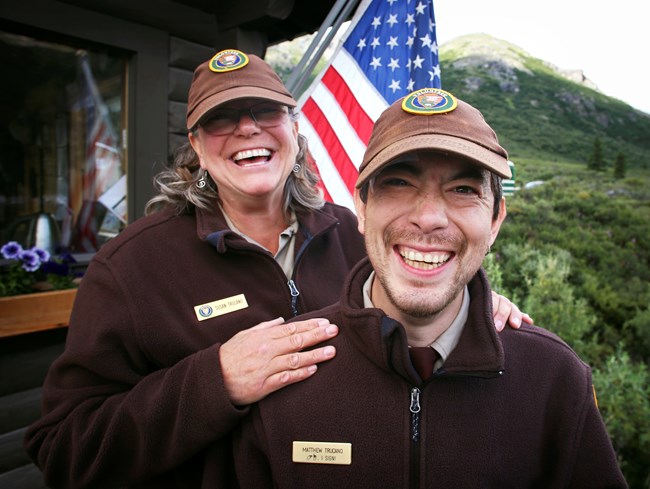 Individual Volunteer Award
Susan and Matthew Trucano from Denali National Park & Preserve
As a member of the non-verbal community, Matther communicates about the wilderness in ways most of Denali National Park's visitors have never experienced. Matthew, assisted by his mother Susan, created original, interpretive ways to use American Sign Language during traditional NPS welcome messages in informal environments. Then they help visitors learn how watch wildlife and communicate with each other about wildlife without words. Their welcome messages allow all visitors, the hearing, hearing imparied, and deaf, to learn how to communicate during a wildlife stop without using words. They teach visitors that they can have a powerful, exciting wildlife moment all through sign and body language.

Matthew and Susan tremendously increased the level of accessibility for visitors from the deaf community by teaching American Sign Language to Denali staff, volunteers, concessionaire employees, and other service providers at the park. They also worked with park law enforcement so they have the ability to communicate with members of the deaf community about NPS rules and regulations.

Matthew and Susan each donated over 500 hours to the park in 2018 bringing their overall hours to over 3,000 each. Their ability to connect with every single visitor they meet through their warmth, enthusiasm, and caring attitude is perhaps the best example of customer service anyone will ever encounter.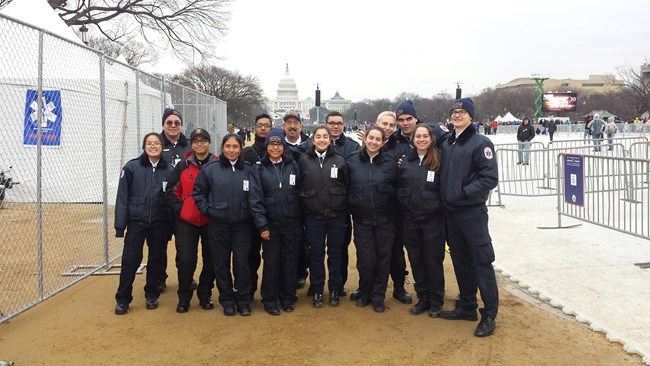 Volunteer Youth Group Award
Montgomery County First Aid Unit, Explorer Post 742
The National Mall and Memorial Parks calls upon EMS volunteers to help provide care for visitors during special events, including the National Cherry Blossom Festival and the Independence Day Celebration. The Montgomery County First Aid Unit, Explorer Post 742 (MCFAU) helped the National Mall care for over three million visitors, often under extreme conditions, during 2018.

MCFAU is a youth-run organization, where 15 - 21 year-olds receive training, certification, and experience in emergency medical care while supervised by experienced adult volunteers. These well-trained volunteers were stationed at the first aid tents and roved the event areas giving medical assistance to our ill or injured visitors. Many of them are professional caregivers; all of them are dedicated to caring for people in need.

In one specific instance the MCFAU responders were among the first EMS personnel on the scene in a sudden cardiac arrest patient during a special event. Their rapid response with an AED and support of those performing CPR quite literally meant the difference between life and death for the patient.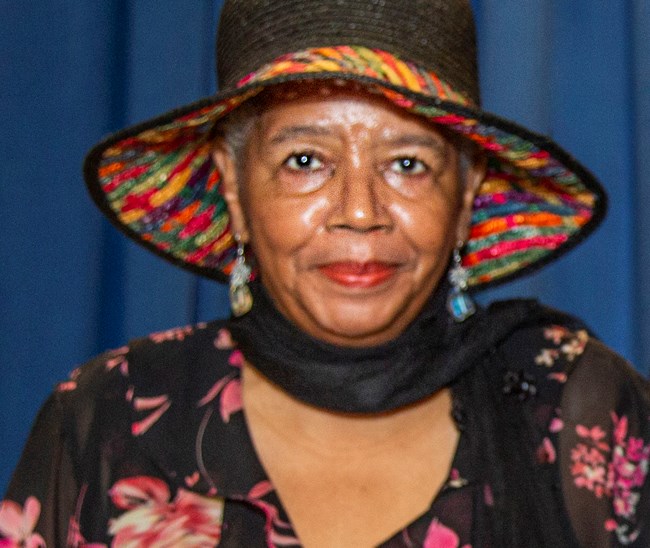 Enduring Service Volunteer Award
Marietta Patterson from Brown v. Board of Education National Historic Site
Brown Vs. Board of Education National Historic Park volunteer Marietta Patterson single handedly brought public awareness to forgotten narratives of students who attended four segregated schools in Topeka, Kansas.

Mrs. Patterson was interested in the local stories of the Brown v. Board lawsuit and started to intensely research the experiences of Topeka students. She had a keen interest in the court testimony of Catherine Sawyer, the only student plaintiff to testify in the 1951 Topeka lawsuit. Her research gained traction through organized community workshops and informal gatherings of students. A partnership with a local KTWU-TV personality secured a grant from the Kansas Humanities Commission to produce a documentary on the research titled, "I Just Want To Testify", which captures the experiences of students from Topeka's segregated schools.

In making contact with these past students this community outreach project extends the historic narrative of Kansas local history. Interpreters are now able to add this historical information to their knowledge base. At the same time relationships have formed with formerly unknown Topeka residents who will now be a resource to the park.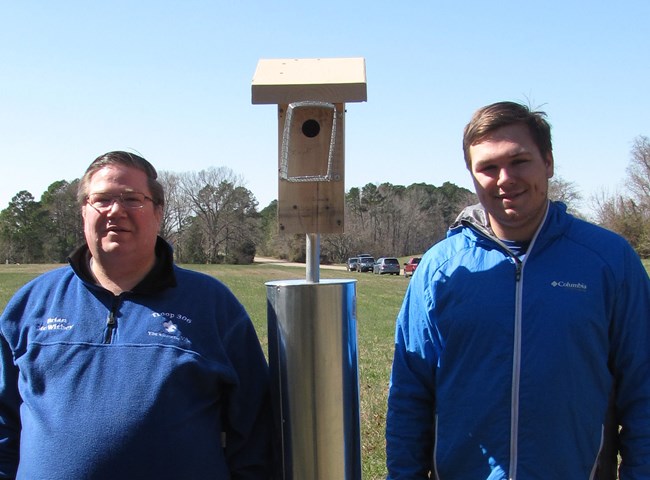 Youth Volunteer Award
Thomas McWithey from Colonial National Historical Park
Scout core values of citizenship, perseverance, and resourcefulness were applied by Thomas McWithey in building fifteen homes for bluebirds along the Colonial Parkway.

Thomas was mentored by a United States Coast Guard officer who helped set goals and collaborate with partners. Thomas then acquired funding from the Virginia Bluebird Society. The grant provided funding for materials. Thomas developed a final design working through several iterations with park staff. He then engaged 17 troop members giving over 150 volunteer hours to build, instal, and then monitor the nesting bluebirds.

Thomas' efforts have provided the platform for the resources division to collect and analyze more data and adapt programs to benefit the coexistence of people and birds.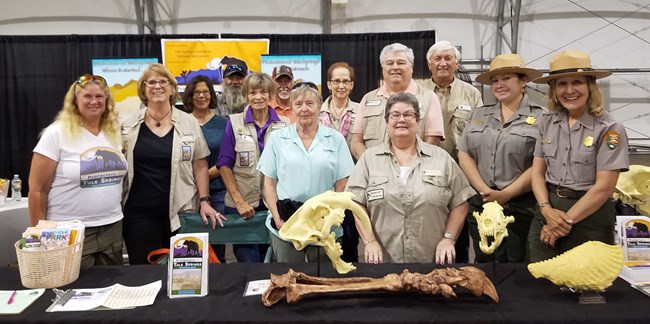 Volunteer Group Award
Protectors of Tule Springs from Tule Springs Fossil Beds National Monument
A citizens group formed in 2006 to protect public lands from development in the Upper Las Vegas Wash and northwest portion of the Las Vegas Valley. Protectors of Tule Springs, or POTS, plans and implements various public outreach, project events, and eight volunteer resource groups.

Clean ups, guided hikes, and boosting public interest are just a few of the ways POTS makes a difference. POTS has improved the conditions for the park by creating baseline natural and cultural resource data that will be used for future monitoring. The creation of guided hikes allows the site to continue to provide hikes with minimal preparation.

POTS has boosted public awareness through social media, newspapers, television, and fundraising. They formed essential relationships in the community working with local parks, museums, and other federal agencies. Annually the group has donated 5,000 hours since 2014.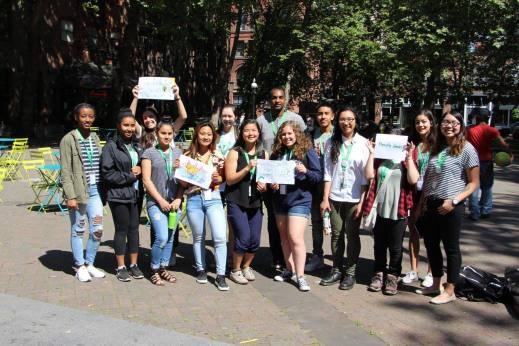 Volunteer Program Award
In My Backyard Program in Seattle Area National Park Sites
In My Backyard is a conservation leadership development and youth outreach program initiated by Seattle Area National Park Sites. In 2018, the group identified a need to engage youth from the Seattle and Tacoma to better reflect the community. The group formed the park's first youth internship program engaging new and diverse audiences at community events.

Nine interns through In My Backyard engaged park visitors both on and off site. They developed programs using audience centered and hands on techniques. Four of the interns are now working with the park on new visitor center exhibits to provide input from communities of color and to add a youthful voice.

In My Backyard Program increased the park's volunteer force not only in numbers but also the quality of programs and services offered.