News Release
National Parks Commemorate Veterans Day With Free Admission and Special Events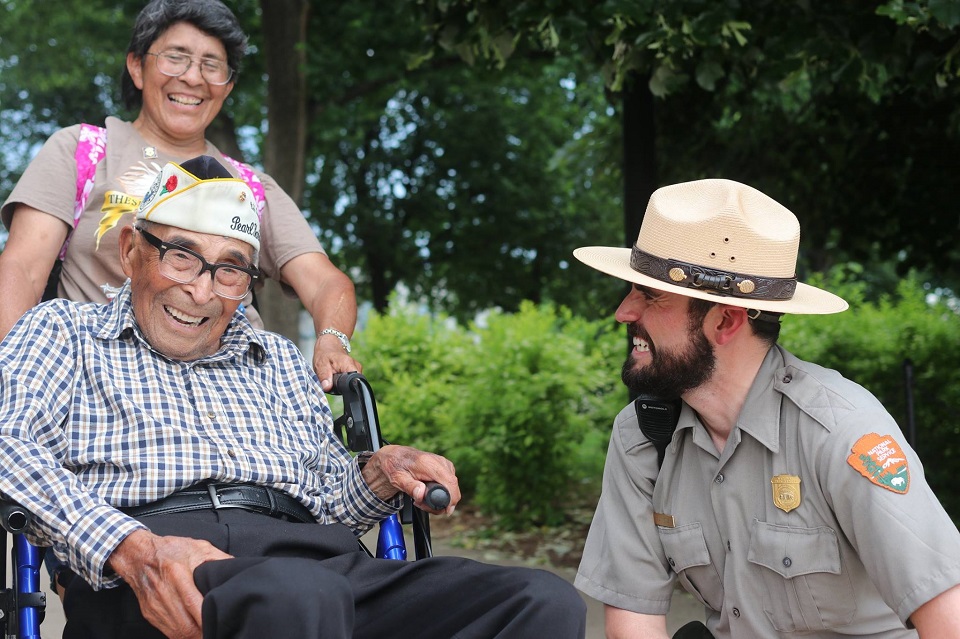 News Release Date: November 7, 2018

Contact: NewsMedia@nps.gov
The National Park Service will commemorate Veterans Day with special events and free admission nationwide on Sunday, November 11. Multiple parks and programs will emphasize the 100th anniversary of the Armistice of World War I.

"Across the country, from veterans memorials on the National Mall in Washington, DC, to War in the Pacific National Historical Park in Guam, the National Park Service preserves sites that honor the service and sacrifice of our nation's veterans," said National Park Service Deputy Director P. Daniel Smith, an Army veteran who served in Vietnam. "We want to ensure that visitors today, and for generations to come, recognize the bravery, character, and valor of every man and woman who has defended this country in the Armed Forces."

In 1918, on the eleventh hour of the eleventh day of the eleventh month, the Armistice ended the fighting in World War I. A war that ravaged Europe also left its mark on America, influencing events and perspectives for decades to come.

Some of today's national park sites buzzed with activity as the nation built and trained its military during the war. Shipyards and battlefields have obvious connections while others tell lesser known stories.
These and other stories that connect national parks to the Great War can be found at NPS.gov/worldwari.

In addition to historical sites, the National Park Service has a long tradition of offering veterans, active duty military members, and their families opportunities for relaxation, recreation, and camaraderie in the great outdoors. Parks have outdoor activities to fit any lifestyle, from serene to high octane, including hiking, fishing, rafting, and climbing. NPS.gov provides a map that highlights national parks near Veterans Administration facilities across the country and provides detailed information about each park.

All national parks will provide free admission to everyone on November 11 in gratitude for the service and accomplishments of veterans. It will be the last entrance fee free day in 2018. Active duty members of the military and disabled veterans are also eligible for free year-round park passes.

The National Park Service salutes its employees and volunteers who are veterans. Veterans comprise 26 percent of the current National Park Service workforce. Through their work in parks, they continue to serve a grateful nation. Park Ranger Christopher Sherbak from Big Bend National Park is one of 5,234 veterans employed by the National Park Service. Before joining the National Park Service, he was in the U.S. Army and deployed twice to Iraq. Sherbak reflected, "Although my uniform has changed from 'green' to 'green and gray', my discipline, adherence to standards, and professional bearing have all transferred to this new found role in the National Park Service, where I continue to serve as another uniformed representative within the federal government."   
 
 
About the National Park Service. More than 20,000 National Park Service employees care for America's 418 national parks and work with communities across the nation to help preserve local history and create close-to-home recreational opportunities. Visit us at www.nps.gov, on Facebook www.facebook.com/nationalparkservice, Twitter www.twitter.com/natlparkservice, and YouTube www.youtube.com/nationalparkservice.
Last updated: November 8, 2018