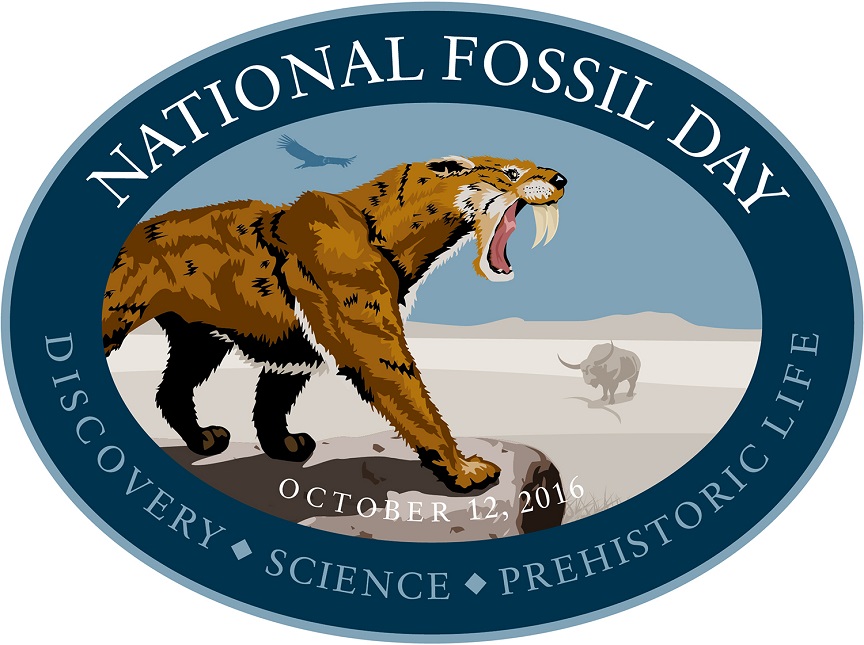 News Release Date: October 7, 2016

Contact: Kathy Kupper, 202-208-6843
WASHINGTON – Excavate an edible fossil, become a junior paleontologist, or search for clues of prehistoric life in a national park on National Fossil Day on October 12. Throughout the country, the National Park Service and partner organizations will celebrate with events and programs that promote public awareness and stewardship of fossils.
"Fossils are important pieces to a larger puzzle that help us understand the history of life, past climates, and the shaping of the planet," said National Park Service Director Jonathan B. Jarvis. "National Fossil Day is a fun way to get young people excited about earth science and the protection of these irreplaceable resources."
This year, 340 partners, including museums, federal and state agencies, fossil sites, science and education organizations, avocational groups, and national parks such as Agate Fossil Beds National Monument,Gulf Islands National Seashore, Fossil Butte National Monument, and Joshua Tree National Parkwill sponsor special events or exhibits. 
Fossils discovered on the nation's public lands, including more than 250 national parks, preserve prehistoric life from all major eras of Earth's history and include samples from every major group of animal or plant. Visitors have the opportunity to see fossilized remains in the same places where those animals and plants lived millions of years ago.
Tule Springs Fossil Beds National Monument, one of the country's newest national parks, will celebrate National Fossil Day at the Las Vegas Museum of Natural History on October 8. Watch science in action as paleontologists prep fossils in the lab. Join family-friendly fun throughout the museum including an "Edible Fossil Excavation," hands-on fossil carts, and a shark feeding demonstration.
A marquee celebration of National Fossil Day will take place onOctober 15at the Smithsonian's National Museum of Natural History in Washington, D.C. Paleontologists from the National Park Service, Smithsonian Institution, American Geosciences Institute, the National Science Foundation, Maryland Dinosaur Park, and other partners will lead family-friendly activities throughout the museum. Explore the Last American Dinosaurs exhibition, see ongoing research and fossil preparation at the FossiLab, join fun kids activities in the Q?rius lab, experience the Dinosaurs Alive! 3D movie, or take a paleo-inspired selfie.
Earn a Junior Paleontologist badge by downloading a book and completing fun fossil activities. Books are also available at many National Park Service sites that have fossil resources.
Educators can schedule fossil-related field trips or download related lesson plans from national parks, including Grand Canyon National Park, Curecanti National Recreational Area, and Cumberland Island National Seashore.
National Fossil Day was started in 2010 by the National Park Service and the American Geological Institute to increase appreciation of the scientific and educational values of fossils. It is celebrated during Earth Science Week which promotes a greater understanding of the Earth Sciences and encourages stewardship of the planet.
For more information on National Fossil Day, including a calendar of events, please visit https://www.nature.nps.gov/geology/nationalfossilday/.
About the National Park Service. More than 20,000 National Park Service employees care for America's 413 national parks and work with communities across the nation to help preserve local history and create close-to-home recreational opportunities. Visit us at www.nps.gov,on Facebook www.facebook.com/nationalparkservice, Twitter www.twitter.com/natlparkservice, and YouTube www.youtube.com/nationalparkservice.