News Release
Feeling Blue? Touch Green - Discover the Healing Power of Nature on National Park Rx Day, April 23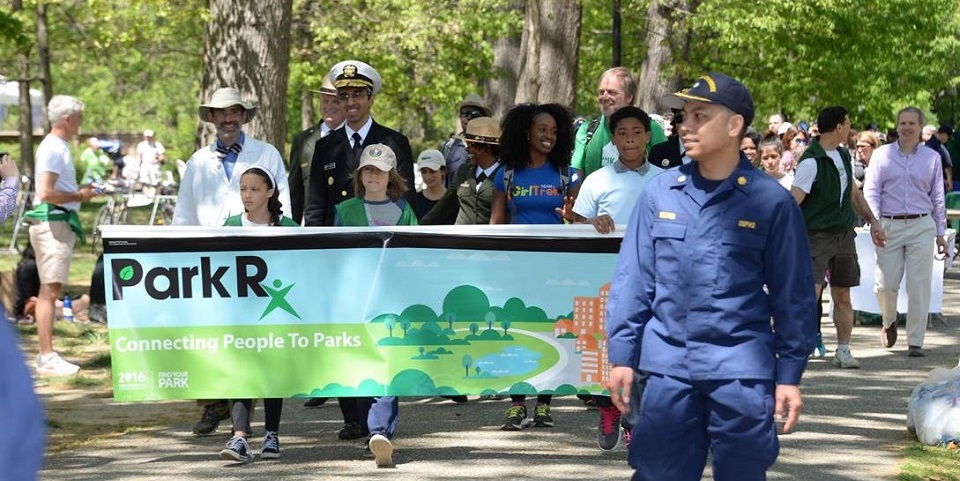 News Release Date: April 19, 2017

Contact: Kathy Kupper, 202-208-6843
WASHINGTON – A step outside is a step in the right direction. On
Park Rx Day
, April 23, National Park Service sites will offer free admission and host special events to highlight the important role of greenspace in physical and psychological wellness.  Park Rx Day is part of the
National Park Week
celebration taking place from April 15 through 23.
"Nature is a powerful medicine," said National Park Service Acting Director Michael T. Reynolds. "Parks and other public lands provide pathways to healthier lifestyles. They offer nearby, accessible places to take a walk, spend time with family and friends, and enjoy a break from the stressors of everyday life. A little investment of time in nature can pay big dividends."
The average American spends 93% of time indoors, and 10 hours each day in front of a screen. Most do not get the recommended levels of physical activity. A growing number of healthcare providers are writing prescriptions for patients that include recommended doses of outdoor time and activity. The Park Rx Movement aligns with the Surgeon General's Step It Up! campaign, which promotes walking and creating walkable communities to improve public health.
"We know that an average of 22 minutes a day of physical activity – such as brisk walking – can significantly reduce the risk of heart disease and diabetes," said Dr. Vivek H. Murthy, the 19th Surgeon General of the U.S. Public Health Service. "Park Rx Day is setting a great example by encouraging individuals to use their parks and greenspaces to improve their physical health and emotional well-being by connecting with family and friends over a walk."
Dozens of partners are supporting Park Rx Day events, including the American Red Cross, the Institute at the Golden Gate, and the National Recreation and Park Association (NRPA).
"Parks offer a number of recreational activities, such as running, walking and swimming, that provide tremendous health benefits," said Barbara Tulipane, NRPA president and CEO. "Parks are also a great place to spend quality time with family and friends while enjoying the benefits of nature. Anyone looking to improve their overall health and wellness should consider a visit to their local park."
Enjoy any of the country's 417 national parks on your own or take part in one of the 50-plus Park Rx Day events planned across the country. Organized activities include fitness walks, Zumba and yoga sessions at Gateway National Recreation Area in New York City, a four-mile hike from Tumacácori National Historical Park to Tubac Presidio State Historic Park in Arizona, games and sporting events at Hot Springs National Park in Arkansas, biking on the Skyline Drive in Shenandoah National Park In Virginia, and a health fair with free screenings at Golden Gate National Recreation Area in San Francisco.
Following is a list by state of Park Rx Day events taking place in national parks and other sites:  
Alaska: Goose Lake Park
Arizona: Sentinel Peak, Tumacácori National Historical Park, Juan Bautista de Anza National Trail, Chiricahua National Monument, Organ Pipe Cactus National Monument
Arkansas: Hot Springs National Park
California: Crown Memorial State Beach, Black Diamond Mines Regional Preserve, Tilden Nature Area, Ardenwood Farms, Coyote Hills, Vang Pao Elementary School, Edison High School, George "Rocky" Graham Park, Mt. Tamalpais State Park, Big Break Regional Shoreline, John F. Kennedy Park, Sunol Regional Wilderness, Joshua Tree National Park Golden Gate National Recreation Area, Crissy Field, McNears Beach Park
Colorado: Mestizo Curtis Park
District of Columbia: President's Park, Lincoln Park, Rock Creek Park, National Mall and Memorial Parks
Florida: Garden of the Five Senses, Deering Estate, Historic Broward House
Georgia: Cascade Springs Nature Preserve
Illinois: Emily Oaks Nature Center
Indiana: Lincoln Boyhood National Memorial
Kentucky: Mammoth Cave National Park
Louisiana: Audubon Park
Maryland: Greenbelt Park, Rock Creek Regional Park
Massachusetts: Cape Cod National Seashore, Pleasant Valley Wildlife Sanctuary
Michigan: Bicentennial Park
Minnesota: Eagan Community Center, Thomas Lake Park
Missouri: George Washington Carver National Monument, Jefferson National Expansion Memorial – Gateway Arch
Montana: Glacier National Park
New Jersey: Jockey Hollow Top Park Preserve
New Mexico: Capulin Volcano National Monument, Petroglyph National Monument
New York: Gateway National Recreation Area, Frank Charles Memorial Park
Ohio: Dayton Aviation National Historical Park, Hopewell Culture National Historical Park
Pennsylvania: Fort Hunter Mansion and Park, Steamtown National Historic Site
Puerto Rico: Julio Enrique Monagas National Park
Texas: Walnut Creek Metropolitan Park
Virginia: Prince William Forest Park, Great Falls Park, Shenandoah National Park, Theodore Roosevelt Island
Washington: Point Defiance Park, Fairhaven Park
West Virginia: Harpers Ferry National Historical Park, New River Gorge National River
About the National Park Service. More than 20,000 National Park Service employees care for America's 417 national parks and work with communities across the nation to help preserve local history and create close-to-home recreational opportunities. Visit us at 
https://www.nps.gov
, on Facebook 
www.facebook.com/nationalparkservice
, Twitter 
www.twitter.com/natlparkservice
, and YouTube 
www.youtube.com/nationalparkservice
.
Last updated: April 19, 2017