Mobile Tours and Apps
NPS Oregon Trail Mobile App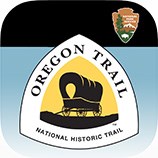 Get out and explore the Oregon National Historic Trail from Missouri to Oregon with the official Oregon National Historic Trail app as your guide. Marvel at the trail's scenic beauty, go for a hike, see original wagon ruts, and discover the story of westward migration. Use this free app to create your own adventure as you follow in the footsteps of pioneers!
Download the App
The app is free and available for Apple and Android devices. Download the NPS Oregon Trail app from
the App Store or from the Google Play Store.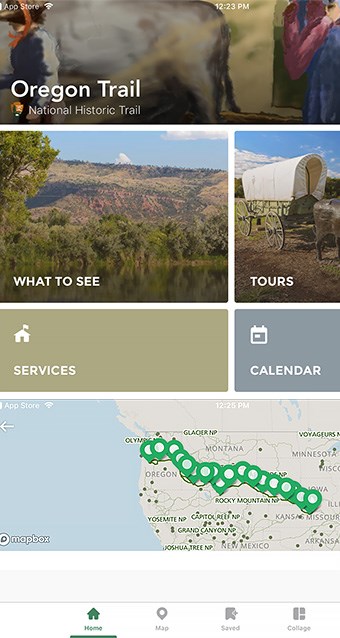 Features
Map
Use the interactive map of the official route of the Oregon National Historic Trail to find sites, get directions and locate services. The map features roads, towns, and multiple zoom levels. Tap the "Locate Me" icon to find your current location.
What to See
Tap the "Explore" button to find points of interest. Discover each site through engaging text and photographs.
Tours
Discover the Oregon Trail one state at a time by following these self-guided tours. Explore each state's app sites and their rich natural and cultural features.
Collage
Share your experience! Tap the "Collage" button to create a collage of the images you've taken of your Oregon Trail adventure. Then share it with friends and family.
Accessibility
This app includes audio-described sites, alternative text for images, and works with the built-in iOS and Android accessibility features.
Using the App
Cell service and Wi-Fi is often limited along the Oregon Trail. Fortunately, the app is available offline. All you need to do is to download the app before you set out on your Trail adventure. To do this, follow these simple steps:
Download and install the app.
In the app, select the "Settings" option under the "More" section.
Tap the gray gear icon labeled "Download Content".
The app's content will then download to your mobile device, allowing you to use the app even when you do not have service.
Last updated: July 5, 2018