Teacher Ranger Teacher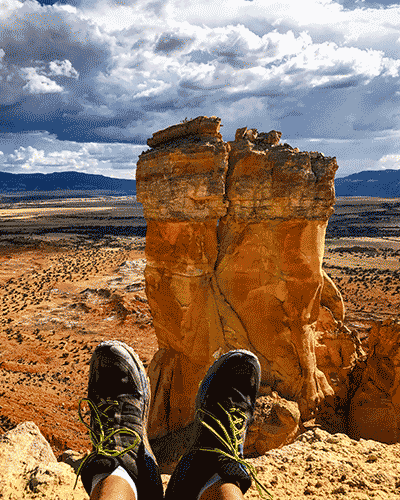 Interview with Our 2017 Teacher Ranger Teacher

Hi everyone! My name is Caleb - I am a secondary education teacher from Denver, Colorado.

This summer, I had the opportunity to work with National Trails Intermountain Region, in Santa Fe, New Mexico. This has been a unique and reflective summer - a 'working vacation' as I like to refer to it. Working within the national historic trails (NHT) office has helped to reinitiate the idea that students are an audience in need of engagement that is personal to them and their experience.

Where did you travel?

In order to introduce me to interpretive work, the NHT office arranged field trips to various sites throughout New Mexico. Site visits included: the New Mexico History Museum, the Santa Fe Historic Downtown Plaza, the Palace of the Governors, Fort Union National Monument, El Rancho de las Golondrinas, and Pecos National Historical Park. These experiences have helped me interact with the history of the trails while also giving me insight into the world of interpretive work.

What skills or new understandings do you hope to bring into the classroom?

This summer, I have been evaluating existing lessons for the National Historic Trails pages. From here, I have selected quality materials from a range of sources. Understanding the trail means unpacking the rich histories and oral traditions of our ancestors. I hope to help students understand not only the textbook topics of 'Westward Expansion' but also the complex and lesser known stories - the perspectives of emigrants, traders, Native Americans and Spanish conquistadors.

Whether visiting the wagon ruts and 'swales' on the Old Santa Fe National Historic Trail, or attending tours of old forts to imagine times of conflict and times of trade, the historic trails offer a lens to understanding one's community. Once students have access to tangible experiences in their own community, i.e. visiting kivas in Pecos National Historical Park, they can eventually dig deeper into the intangible, i.e. imagining what life must have been like for Pueblo people in the 17th century.

This enrichment activity has the ability to elevate our students' senses. Whether relating modern comforts such as air conditioning to students - asking them to hypothesize ancient cooling devices, or prompting them to reflect upon loss and love - a human and universal connection, teachers have the power to help with students' understanding of universal themes. I look forward to integrating the practice of Audience Centered Engagement (a newer philosophy within interpretive work) into my classroom this fall!

Any final thoughts?

I hope that teachers everywhere find the new For Teachers webpage as a helpful and practical tool for the classroom. I searched high and low for curriculum that represents multiple trail stories and a variety of ways to use national historic trails in the classroom. My final task for this project involved the creation of a multi-day lesson for grades 6-12. I want to thank the National Park Service for granting me this opportunity to grow in my practice, and to continue my passion for research and learning. Thank You, National Park Service!


Return to the Education home page
Last updated: February 3, 2020