Wildlife Viewing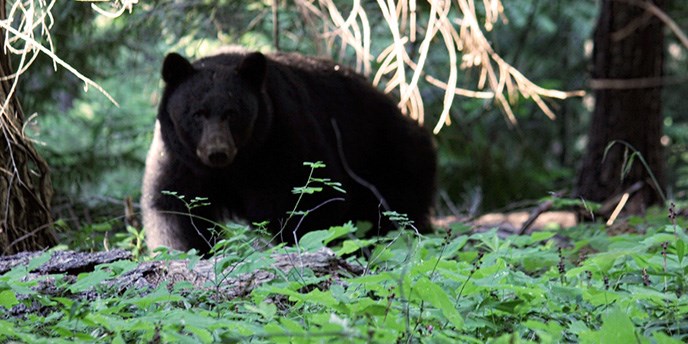 What kinds of plants and animals can I expect to see?
Due to the unique geographic location of Oregon Caves, a short hike can take you through many different ecologic zones, creating opportunities to see many different animals and plants in one area that do not normally exist together. This makes Oregon Caves an exciting place to view diverse wildlife.

To learn more about on specific animals and plants, please visit our Nature section under Learn about the Park.

To engage with wildflowers and become a Citizen Scientist, please visit our Wildflower Phenology section under Learn About Our Park, Science & Research, Wildfire Phenology or our Oregon Caves Wildflower Survey project on iNaturalist.
View Wildlife Safely
Please keep in mind that all park wildlife are potentially dangerous to humans. Safety tips:
Observe wildlife from a distance. If animals react to your presence, you are too close. If you're close enough for a selfie, you're definitely too close. Use binoculars or a zoom lens and move back if wildlife approach you. Let wildlife be wild and observe from a distance.
Never feed wild animals. Learning to beg for and/or rely on human foods is extremely harmful for all wild animals, big or small. Be careful not to leave wrappers, crumbs, or other food trash after picnicking or snacking on the trails. Feeding wildlife damages their health, alters natural behaviors, and exposes them to predators and other dangers. Feeding wildlife can also increase risks to you and other visitors.
Keep children close. Keep children within your immediate sight at all times.
Avoid wildlife during sensitive times. This includes times when animals are mating, nesting, raising young, and during the winter.
Last updated: September 25, 2019