Pets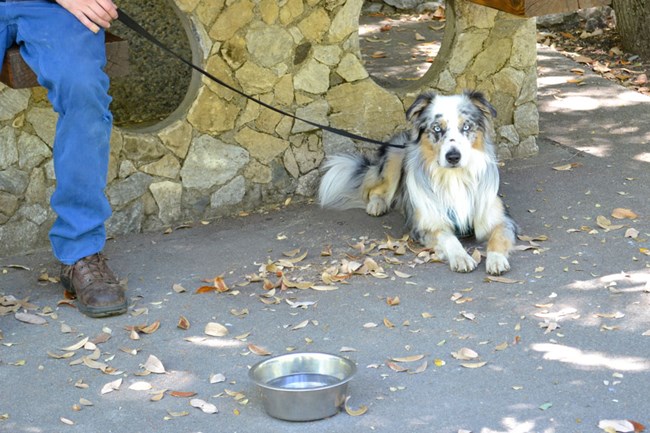 Pet Regulations
Pets must be on a leash six feet long or less at all times.
Pets may be left unattended in vehicles. However, please be aware that if pets display signs of distress due to conditions such as hot weather, owners may be cited for endangering an animal.
Pets cannot be tied unattended to an object.
Please clean up after your pet and take responsibility for its behavior.
Commonly Asked Questions
Where may I go with my pet?
A good rule of thumb is that your pet may go anywhere a car may go: roads and road shoulders, the campground, picnic areas, and parking lots.
Where are pets not allowed?
Pets are not permitted in the cave, on any hiking trail, in any body of water, or inside of the visitor center or other park facilities.

Why are activities with pets in the park limited?
The park affords special protection to wildlife and habitat. Pets can cause, and are vulnerable to potential issues with wildlife, and are a danger to the handler and other visitors. For example:
The territorial scent dogs leave behind disrupts the behavior of native animals that this park has been set aside to protect.
Dogs are predators that could chase, scare, and kill wild animals.
Pets may transmit diseases to wildlife, and wild animals can transmit diseases to pets, including the bubonic plague.
Bears and other predators are curious about dogs and have been known to attack them.
Service Animals
Service animals are welcome in the visitor center, Chateau, and other areas where pets are traditionally prohibited. For more information on service animals, please visit our Accessibility page.


Last updated: December 21, 2022