Campgrounds
Cave Creek Campground


Sleep under the boughs of an old growth forest beside Cave Creek. This campground is located 15 miles up Highway 46 from Cave Junction and just four miles from the cave entrance. The campground has fire rings, water and vault toilets. The spaces are too small for large RVs or trailers and no pull through sites. The campground offers 17 sites available on a first-come first-serve basis. Maximum vehicle length: 20 feet.
The campground is open Memorial Day Weekend until the first fall rains begin.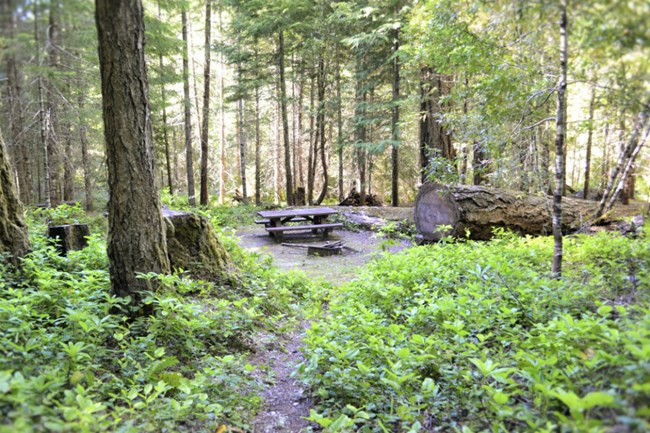 Basic Information
Camping fees $10 per night, if you have a Senior Pass or Access Pass the cost is $5.00.
Camping is permitted between Memorial Day and Labor Day Weekend. Depending on weather, it may be open longer. Contact the park after Labor Day or check above for up to date information.
Camping is limited to 14 days with no more than 30 days allowed within a combined year.
Campsite capacity is limited to eight people and two vehicles, where space is available. A maximum of two tents per site is permitted.
Sites may not be left unattended for over 24 hours.
Check out time is 12:00 noon. If you plan on staying another night, re-register by 11:30 a.m.
Secure your valuables in a locked vehicle out of sight.
Compostable toilets are located in 3 areas throughout the campground. No showers and minimal water spicket use.
Food Storage
Animals are attracted to food and food odors. All food, garbage, and equipment used to cook, serve or store food must be kept sealed in a vehicle, or in bear resistant container at all times, except when these items are being transported, consumed, or prepared for consumption. Do not burn waste in fire rings or leave litter around your camp. Garbage must be properly stored at all times. Use bear proof trash cans.
Quiet Hours & Generator Use
Activities must be kept to a level that ensures noise does not disturb other campers. Quiet hours are from 10:00 p.m. to 8:00 a.m. Generator use in the campground is not permitted during quiet hours.
Pets
Pets must be on a leash no longer than 6 feet (1.8 m) and are not allowed on trails. Pets are not to be left tied to an object when unattended. Pet owners must pick up after their pets and dispose of waste in a trash receptacle. Owners must not allow a pet to make noise that is unreasonable.
Fires & Firewood
Only dead wood on the ground may be collected for use as fuel for campfires. Fires must be kept inside fire grates and attended all times. Be sure your fire is dead out when leaving for any reason.

Fireworks are prohibited at Oregon Caves National Monument and Preserve.
Sanitation & Water
Using campground faucets to wash dishes, clothing, clean fish, prepare food, or to bathe is prohibited. Do not leave wastewater unattended. Please keep a clean camp!
Camping Outside the Park
Public Campgrounds and RV Parks
Grayback Campground (US Forest Service) is located on Highway 46 between mile marker 11 and 12, eight- miles from the cave entrance. Grayback offers running water and vault toilets. Maximum vehicle length: 26 feet. The campground is open late May through early fall. The campsites are offered on a first come, first served basis. Call the US Forest Service Ranger Station at 541-592-4000 for current conditions.
Chinquapin Group Campground (US Forest Service), located near Grayback Campground, is available by reservation. For more information click here.
Lake Selmac Park (Josephine County Parks), Selma. 500 Reeves Creek. Rd. Selma, OR 97538 (800) 452-5687. www.co.josephine.or.us. The park is located about 25 miles from Oregon Caves and has 91 sites, 39 with full hook ups, RV dump station, restrooms, showers, picnic shelters, ball fields, playground, and boat ramps. Assistant Ranger and seasonal hosts in park to answer questions.
Private Campgrounds and RV Parks
Country Hills Resort/Campground, 7901 Caves Hwy, Cave Junction (541) 592-3406. www.countryhillsresort.com. Reservations are taken.
Lake Selmac Resort & Smoke on the Water Campground, 2700 Lake Shore Drive, Selma (541) 597-2277. www.lakeselmac.com. This resort offers camping, RV spaces, boat rentals, 18-hole mini-golf, fishing, swimming, horse trails and a general store. Reservations are taken.
Lone Mountain RV Resort & Campground, 169 Lone Mountain Rd. O'Brien (541) 596-2878. www.lonemountainrv.com. This RV resort has trails and wilderness areas. There is a volleyball court, horseshoe pits, gazebo and picnic area with barbeque. Amenities include a laundry area, gas station, and a grocery store within walking distance.
Out "N" About Treehouse Treesort, 300 Page Creek Rd, Cave Junction, (541) 592-2208. http://treehouses.com/joomla/
Ol' Jo RV Park, 156 Ollis Road, Cave Junction (541) 415 -8318 or (707) 268-0442. Reservations are taken. http://www.oljorvcampground.com/
Shady Acres Trailer & RV Park, 27550 Redwood Highway, Cave Junction (541) 592-3702. Reservations are taken. No Website.
Laughing Alpaca Camping & RV Park, 28288 Redwood Highway, Cave Junction (541) 592-2656. Reservations are taken. Located right along the West fork of the Illinois River. Fire pit and laundry on site. www.laughingalpacacampground.com.
Hotels/Motels
Kerbyville Inn, 24304 Redwood Highway, Kerby (541) 592-4689. Reservations are taken. http://kerbyvilleinn.com/
Holiday Motel, 24810 Redwood Hwy, Kerby (541) 592-3003. No Website.
Maple Ranch, Foris Vineyard, 654 Kendall Rd, Cave Junction (541) 592-3752, Vacation Rental By Owner https://www.vrbo.com/315296
Last updated: May 26, 2023