Be A Junior Ranger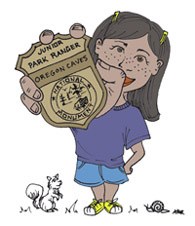 Will you Take the Junior Ranger Challenge?
Become a Junior Ranger and help the Park Rangers at Oregon Caves protect the plants, animals, rocks, and history of this special place.
How do you Earn your Badge?
1. Complete a Junior Ranger Booklet (all are Adobe Reader files)
2. Have a Park Ranger review your work
3. Complete the Junior Ranger pledge
What's Next?
As a Junior Ranger, you'll have Park Ranger responsibilities of protecting and preserving parks and monuments which include:
Wearing your badge proudly. You've earned it!

Taking only memories and pictures.

Leaving behind only footprints.

Teaching others about the many things you've discovered at Oregon Caves.
We look forward to having you part of the team!


Last updated: January 9, 2020