Oregon Caves Cavemen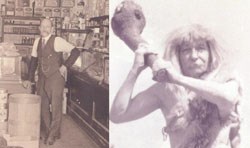 The Oregon Caves Cavemen began in 1922 when a group of businessmen in Grants Pass, Oregon came up with a novel way of promoting tourism in Josephine County. They did this by dressing up as cavemen, pretending to be descendents of the Neanderthals. (The Neanderthals became extinct in Europe thousands of years ago and had no descendents). With their unusual attire, and zany antics they promoted Oregon Caves and Josephine County by bringing thousands of additional tourist to visit Oregon Caves.
Dad Reingate was one of the original seven cavemen. He owned a grocery store, and when he donned his wig, skins and picked up his club he became a Caveman known as the Flame watcher.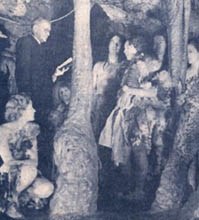 This is a Caveman wedding in 1936. This was a promotion thought up by the president of the Redwood Empire to promote tourism along the Redwood Highway from San Francisco, California to Grants Pass,Oregon.
This event was a tremendous success in terms of news reels, writers, and photographers from several news organizations attending. Many cities paying thousands of dollars for publicity would have gladly traded what they spent on publicity for the nationwide coverage that the Cavemen provided for free.
Last updated: February 28, 2015