Monterey Furniture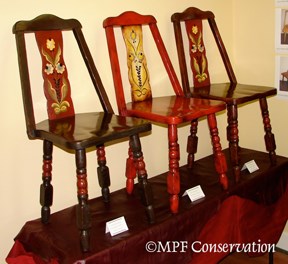 The Monterey furniture within the Chateau is unique. It was constructed by the Mason Manufacturing Company of Los Angeles and is all hand-made, mostly from Oregon alder wood. Each of the craftsmen had their own design, generally a floral pattern, which they painted on many of the pieces they made.
Conserving and Restoring the Monterey Furniture
After all these years the designs have either faded or been eliminated during refurbishing. MPF Conservation currently conserved and restored Mason Monterey Furniture from the Oregon Caves National Monument and it since has been returned to the Oregon Caves Chateau. The curatorial staff of the National Park Service (NPS) has been working toward the preservation and reparation since the NPS became the owners of the collection. Collection surveys outlined the basic damage to the collection prior to the NPS ownership.
Find out more information on MPF's website.
You can also find out directly the status of the furniture here:
Informal Update #1: Excavation, pd 601 KB
Informal Update #2: Finish, pd 634 KB
Informal Update #3: Reupholster, 1082 pd
Last updated: February 28, 2015