Royal Basin
General Location: 18 miles southwest of Sequim, WA in Upper Dungeness/Royal Creek area.
Trailhead: Upper Dungeness Trailhead (USFS)
Notices:
For the most up to date information about how to obtain a Wilderness Permit click

here

. Camping is limited year round and early reservations are recommended for trips between May 1 and September 30.

A Northwest Forest Pass or America the Beautiful Pass is required to park at the USFS Upper Dungeness Trailhead.
Description
Ecosystem type: Montane forest, subalpine meadow, subalpine lake basin
Trail tread types: Maintained
General elevation trend: Moderate to steep
River crossings: A few small creek crossings. Be prepared to get your feet wet.
Unique features: Wildflowers, wildlife, mountain vistas, highest concentration of 7,000+ foot peaks in the Olympics
Level of difficulty: Moderate
Distance: 7.2 miles to Royal Lake
Elevation change: 2,550 feet to 5,100 feet
Best Season: Early July through mid-October
Camping
Food Storage Method: Bear Canisters are required. Trees in the Royal Basin area are not suitable for food hanging, and there are no bear wires.
Location and sites: Royal Creek, Lower Royal Meadow, and Royal Lake
Toilet Facilities: Composting toilets are located at Royal Lake. Elsewhere, bury waste 6-8" deep and 200 feet from water sources and campsites. Please pack out toilet paper.
Water Source: Royal Creek and Royal Lake. Always boil, filter, or chemically treat your drinking water to prevent getting Giardia.
Stock: This trail is closed to stock animals at the park boundary.
Special Concerns
Leave No Trace: Practice Leave No Trace during your stay to protect the resource and vegetation. Camp in designated sites only in Royal Basin.
Fires: No campfires in Royal Basin. To protect sensitive vegetation, campfires are prohibited above 3,500 feet.
Respect Wildlife: To protect bears and other wildlife, all food, garbage, and scented items must be secured in bear canisters 24 hours a day.
Safety
The peaks in the Royal Basin area are not walkups. The rock is often very rotten in places. Be prepared for rock-fall and snow hazards.
In winter or early spring, always check the avalanche danger and have avalanche rescue skills and gear.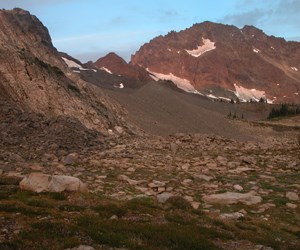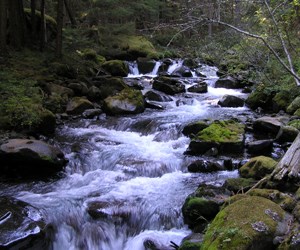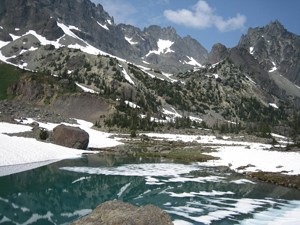 Last updated: October 2, 2023