Accessibility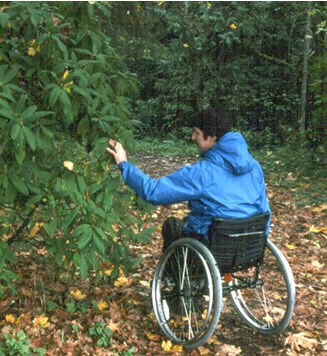 Select an area name for a list and description of accessible trails and facilities in that area, or
download a PDF version
.
Olympic National Park Visitor Center
Port Angeles
Fully accessible building with exhibits on park's natural and cultural history. Several touch displays, an audio program and displays with sound effects. Park orientation video (27 minutes) is shown on request with closed captioning available. Hearing Assisted Technology (HAT) is available at the information desk. Accessible restrooms.
For general information call (360) 565-3130. TTY users can use the Washington relay service (800-833-6385 or 800-833-6388) to obtain information.
The Living Forest Trail
This 0.4 mile hard-packed surface loop trail leads through forest to a view of Peabody Creek valley. A wheelchair is available for checkout.
Hurricane Ridge Area
Hurricane Ridge Visitor Center
Accessible restrooms, exhibits, and captioned orientation movie shown on request. Picnic tables (some with extensions), a gift shop and snack bar are also accessible.
Two picnic areas just beyond the Hurricane Ridge Visitor Center have paved trails that are accessible with assistance leading to tables (some with extensions) overlooking the Olympic Mountains; but the restrooms are not accessible.
When the building is staffed, Hearing Assisted Technology (HAT) and a wheelchair are available for use.
Meadow Loop Trails
Paved trails provide excellent views of the Olympic Mountains and the Strait of Juan de Fuca on clear days. Several short, relatively flat loop trails.
Elwha Area
Madison Falls Trail
One-tenth mile paved trail to a 60-foot high cascade. There is an accessible vault toilet near the parking lot.
Lake Crescent
Storm King Ranger Station
Accessible and is open seasonally; accessible restrooms (open year-round) located nearby. Accessible vault toilets at the East Beach, La Poel, North Shore and Bovee's Meadow picnic areas.
Lake Crescent Lodge
has an accessible main lodge, restaurant, lounge and room.
The restaurant at
Log Cabin Resort
is accessible.
Marymere Falls Trail
The trail begins at Storm King Ranger Station and winds its way through old growth forest. The first half-mile is a hard-packed surface and leads to an overlook of Barnes Creek.
Moments in Time Nature Trail
A 0.8 mile loop trail with hard-packed surface, offering views of the lake, old-growth forest and former homestead sites. It can be reached from either the Olympic Park Institute or Lake Crescent Lodge, or from the Storm King Ranger Station via a 0.3 mile trail.
Sol Duc Area
Accessible hot spring pools, rental cabins, restaurant and lodge.
Salmon Cascades
A short gravel and dirt path leading from the Sol Duc Road to a wooden platform overlooking the Sol Duc River. Look for leaping salmon in autumn. Accessible vault toilet.
Mora Area
Rialto Beach
A very short paved trail leads from the parking lot to a picnic area in the coastal forest. In summer months, a short ramp is installed, providing access to a beach overlook. The extent of the view depends on the amount of driftwood and rocks washed ashore by storms and high tides.
There is an accessible vault toilet at the parking lot.
Kalaloch Area
At
Kalaloch Lodge
, the main lodge and restaurant are accessible, along with one accessible cabin.
Ruby Beach
There is an accessible viewpoint overlooking Ruby Beach and Cedar Creek. Accessible vault toilet in parking lot.
Beach Trail #4
Provides an accessible viewpoint overlooking the Pacific Ocean; accessible vault toilet in parking lot.
Hoh Rain Forest Area
The Hoh Rain Forest Visitor Center
Accessible and has restrooms, information and exhibits on the temperate rain forest. There is a wheelchair available for checkout when the visitor center is open and staffed.
Mini-Rain Forest Trail
A flat, quarter-mile paved trail with a small stream and towering Sitka spruce trees. The trail is paved, although there are roots pushing the pavement up in a number of areas.
Hoh Picnic Area
Accessible restrooms and one accessible site with table extensions.
Quinault Valley
Quinault River Ranger Station
Located on the north side of Lake Quinault, the ranger station has accessible vault toilets. The ranger station includes exhibits and is open intermittently.
Maple Glades Trail
A 0.5 mile hard-packed loop trail through a moss-draped rain forest.
Kestner Homestead Trail
A 1.3 mile self-guided, hard-packed loop trail. It links with the Maple Glades Trail and leads to the historic Kestner Homestead.
Last updated: February 15, 2018