Cameron Pass Trail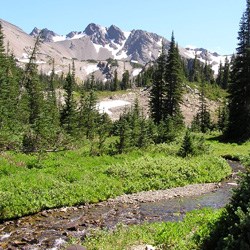 Notices
Description
Trail Conditions
Camping
Special Concerns
Safety
Map
Notices:
Permits

for this area should be obtained at the Wilderness Information Center (WIC) in Port Angeles.

Snow can persist on Cameron Pass into Late July or August. Ice axe and self-arrest skills recommended when the pass is snow-covered.
Description
Ecosystem type: Subalpine meadow, alpine tundra
Trail tread types: Primitive
General elevation trend: Steep
River crossings: A few small creek crossings. Be prepared to get your feet wet.
Unique features: Wildflowers, wildlife, mountain vistas
Level of difficulty: Difficult
Distance: 3.5 miles from Grand Pass to Cameron Pass
Elevation change: 4,150 feet to 6500 feet
Best Season: Late July through September
Camping
Permits/Reservations: Obtain permits at the WIC in Port Angeles during business hours.
Food Storage Method: Due to lack of trees, bear canisters should be used for food storage.
Location and sites: Sites are located in the basin below Cameron Pass.
Toilet Facilities: None. Bury waste 6-8" deep and 200 feet from water sources and campsites.
Water Source: Cameron Creek flows through the camp area.
Stock: Allowed, day-use only. Trailers are not recommended on the Obstruction Point Road. No camping with stock above 3,500 feet.
Special Concerns
Leave No Trace: Leave No Trace of your stay to protect vegetation and prevent further camping regulations. Camp only on durable surfaces.
Campfires: No campfires in Cameron Basin. To protect sensitive vegetation, campfires are prohibited above 3,500 feet.
Respect Wildlife: To protect bears and other wildlife, all food, garbage, and scented items must be secured from all wildlife 24 hours a day.
Safety
In early season, several steep snow slopes exist along this trail.
Cameron Pass can hold snow/ice until late in the summer.
An ice axe and self-arrest skills may be required for much of the spring and summer.
It may be difficult to follow sections of trail due to snow.
Map and compass skills may be required during much of the spring and summer.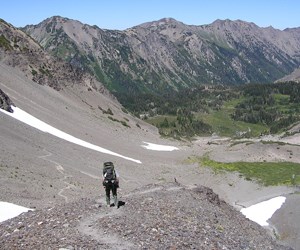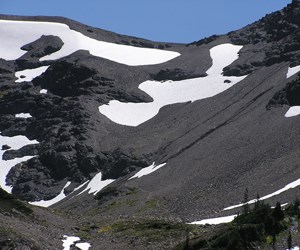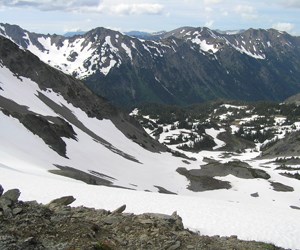 Last updated: December 9, 2017