News Release
Search continues for overdue backpacker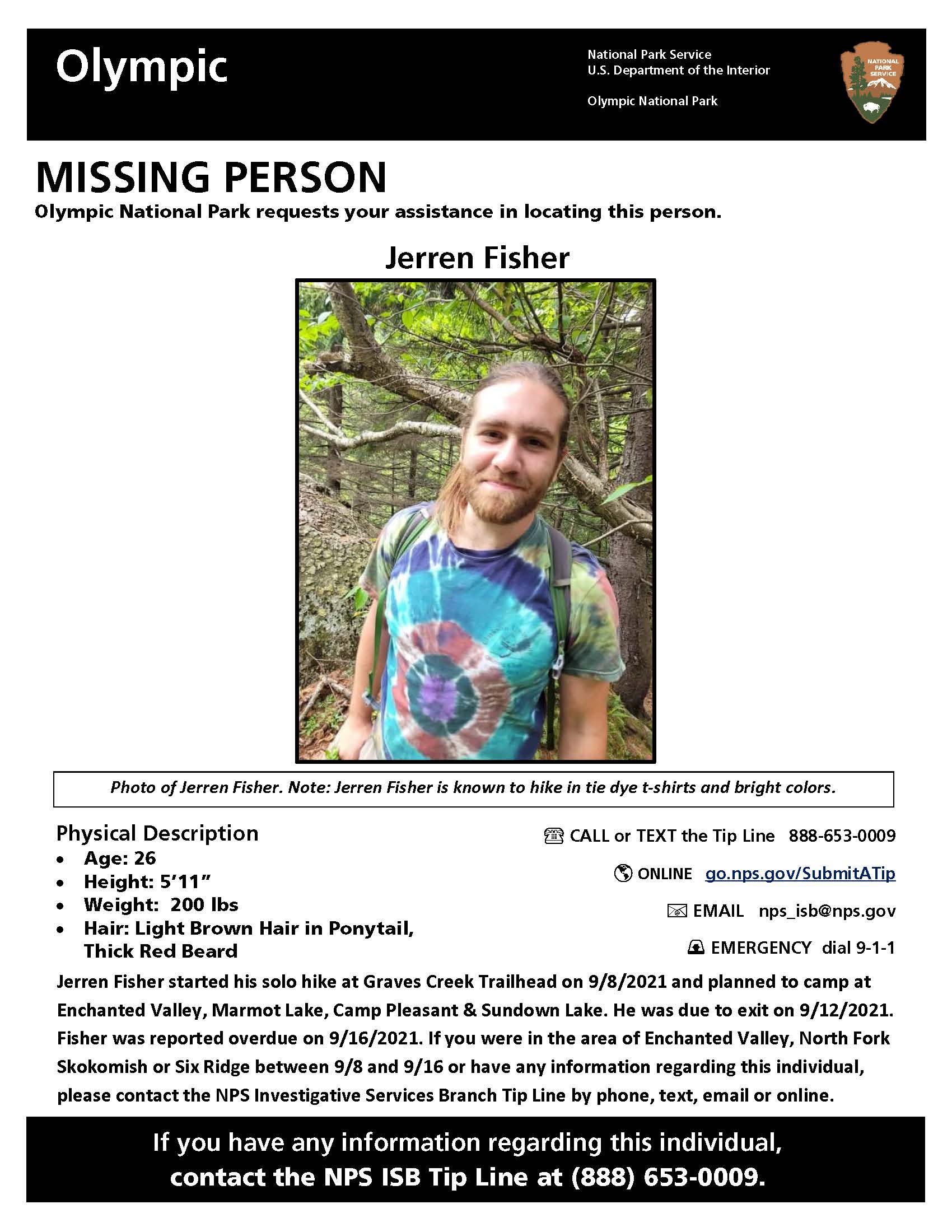 News Release Date:
September 18, 2021
Contact: Penny Wagner, 360-565-3005
A search is underway for an overdue backpacker in Olympic National Park. Jerren Fisher is a 26-year-old male and is 5'11" tall, 200 pounds, with light brown hair in a ponytail and a thick red beard. Fisher is known to hike in tie dye t-shirts and bright colors. His last known location is the Graves Creek Trailhead in the Quinault Rain Forest.

Fisher had a wilderness permit for September 8-12 and was planning on camping at Enchanted Valley, Marmot Lake, Camp Pleasant, and Sundown Lake before returning to his vehicle via Graves Creek Trailhead.

Fisher was reported overdue to park dispatch on Thursday, September 16 by a family member. Park rangers then located Fisher's vehicle at the Graves Creek Trailhead and initiated a hasty search. Search and rescue personnel hiked into the wilderness that afternoon from the Graves Creek Trailhead towards Sundown Lake following Fisher's itinerary in reverse as well as from the North Fork Skokomish Trail. National Park Service personnel who were already in the wilderness assisted with the search between Marmot Lake and Camp Pleasant. Olympic Mountain Rescue also joined the search efforts on Thursday and worked in the area of Six Ridge and the Seven Stream drainage area.

The search continued Friday despite efforts being hampered by the cold, rainy and windy weather. Search teams covered from Sundown Lake to South Fork Skokomish Trail via Sundown Pass, Sundown Lake to the North Fork Skokomish Trail via Six Ridge Pass, and the North Fork Skokomish Trail from Staircase to Six Ridge.

The focus of today's operation includes searching the Wynoochee Pass Trail and the switchbacks in the Seven Stream area. Teams in the field are made up of Olympic Mountain Rescue and Tacoma Mountain Rescue volunteers with assistance from NPS personnel, Washington State Search and Rescue Planning Unit, and North Cascades National Park. Interviews are being conducted with backpackers who had wilderness permits in the areas on Fisher's itinerary.

A storm system continues to move through the Olympic Peninsula and has created unfavorable conditions for the use of aviation search resources.

If you were in the area of Enchanted Valley, North Fork Skokomish Trail or Six Ridge between 9/8-9/16, or have any information regarding this individual, please call or text the tip line at 888-653-0009. Information from other day hikers and backpackers is often extremely valuable during searches. 
CALL or TEXT the ISB Tip Line 888-653-0009   
ONLINE form www.nps.gov/ISB > Submit a Tip   
EMAIL e-mail us   
EMERGENCY dial 9-1-1 
Last updated: September 18, 2021