News Release
Search Continues for Missing Backpacker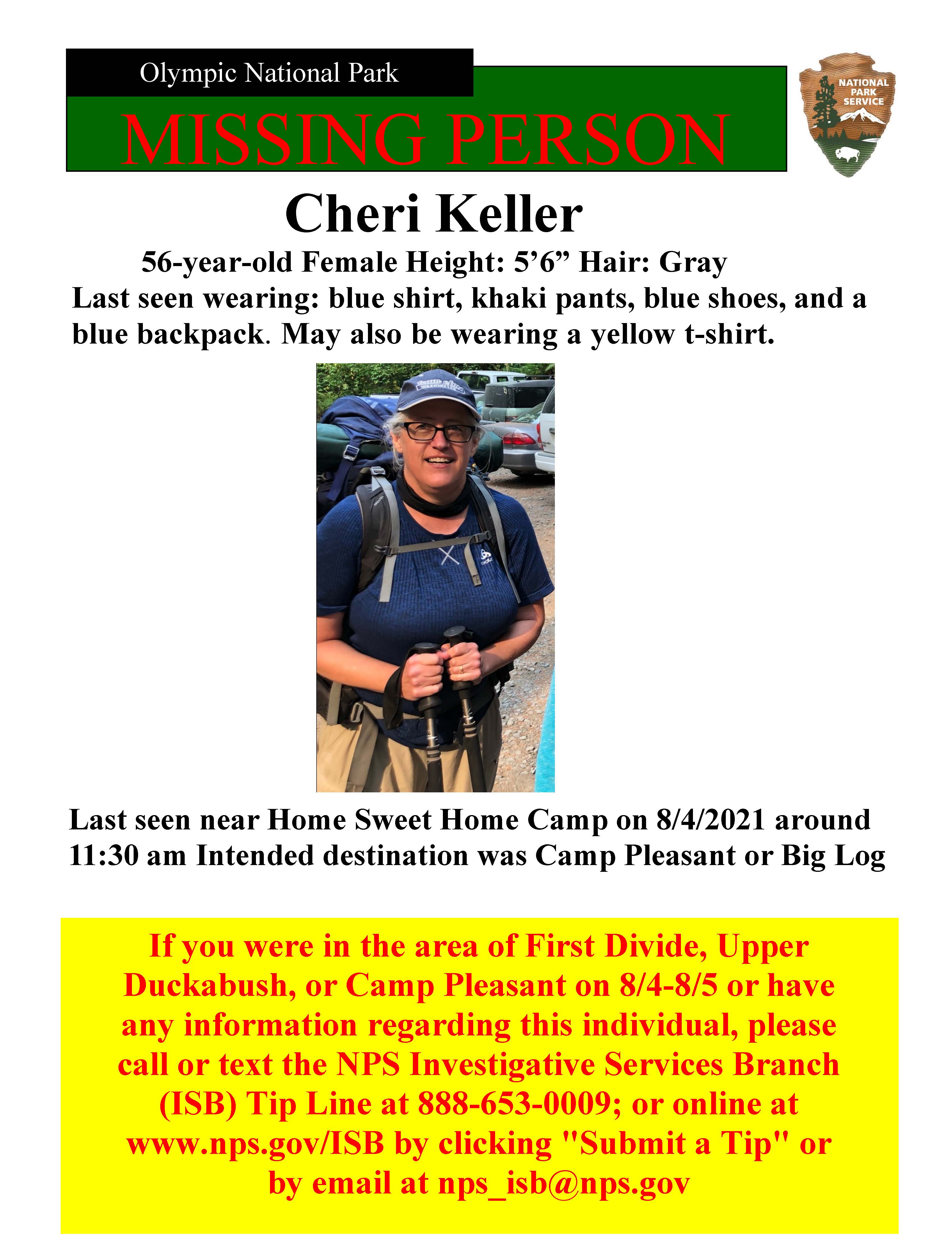 News Release Date:
August 7, 2021
Contact: Penny Wagner
A search is underway for a backpacker reported missing on August 5 in Olympic National Park. Cheri Keller is a 56-year-old female from Olympia, Washington and is 5'6" tall, with gray hair. She was wearing a blue shirt, khaki pants and blue trail running shoes with a blue backpack. She also had a yellow synthetic material t-shirt with her that she may be wearing. Keller was last seen by her backpacking group on August 4 around 11:30 am near Home Sweet Home camp where the group of five backpackers had stopped for water. Home Sweet Home is located 12 miles from the North Fork Skokomish Trailhead in the Staircase area of the park. Keller's group had a wilderness permit for August 1-5 to hike from the Duckabush trailhead over to Staircase. 
Keller was hiking on her own after the group left Home Sweet Home headed for Camp Pleasant where they intended to meet for lunch. The group waited for Keller at Camp Pleasant but she did not arrive. Members of the group hiked back to the location she was last seen but were unable to locate her. The group stayed in place at Camp Pleasant overnight. On Thursday morning, two members of the group hiked out 6.5 miles to the Staircase area and reported her missing to park dispatch around 10:00 am.  The other members of the group hiked back to the area of First Divide and Home Sweet Home again to look for her but were unable to locate her.  
Search and Rescue personnel hiked into the wilderness from Staircase on Thursday after Keller was reported missing. Two National Park Service (NPS) search teams were in the field Friday covering the route from the Duckabush side and from the Staircase side. An additional team from Olympic Mountain Rescue arrived late Friday afternoon and hiked in to Nine Stream to be in place for today's search.
Today's operation involved six search teams in the field made up of NPS personnel, Olympic Mountain Rescue, and Tacoma Mountain Rescue; trail containment involving NPS personnel and Mason County Search and Rescue; and assistance from Washington State Search and Rescue Planning Unit and North Cascades National Park. The teams have searched the area on the group's itinerary from both the Duckabush Trailhead side and the North Fork Skokomish side from Staircase. This includes Upper Duckabush, Home Sweet Home, and First Divide as well as the Mount Hopper area and Marmot Lake area.
Any leads or potential sightings will be investigated. Aviation resources have not yet been an option due to the weather and low cloud ceiling.
If you were in the area of First Divide, Upper Duckabush, or Camp Pleasant on August 4 or August 5 or have any information regarding this individual, please call or text the NPS Investigative Services Branch (ISB) Tip Line at 888-653-0009; or online at 
www.nps.gov/ISB
 by clicking "
Submit a Tip
" or by email at e-mail us. Information from other day hikers and backpackers is often extremely valuable during searches.
CALL or TEXT the ISB Tip Line 888-653-0009  
ONLINE form www.nps.gov/ISB > Submit a Tip  
EMAIL e-mail us  
EMERGENCY dial 9-1-1 
Last updated: August 7, 2021