News Release
Recreate Responsibly to Help Prevent Search and Rescue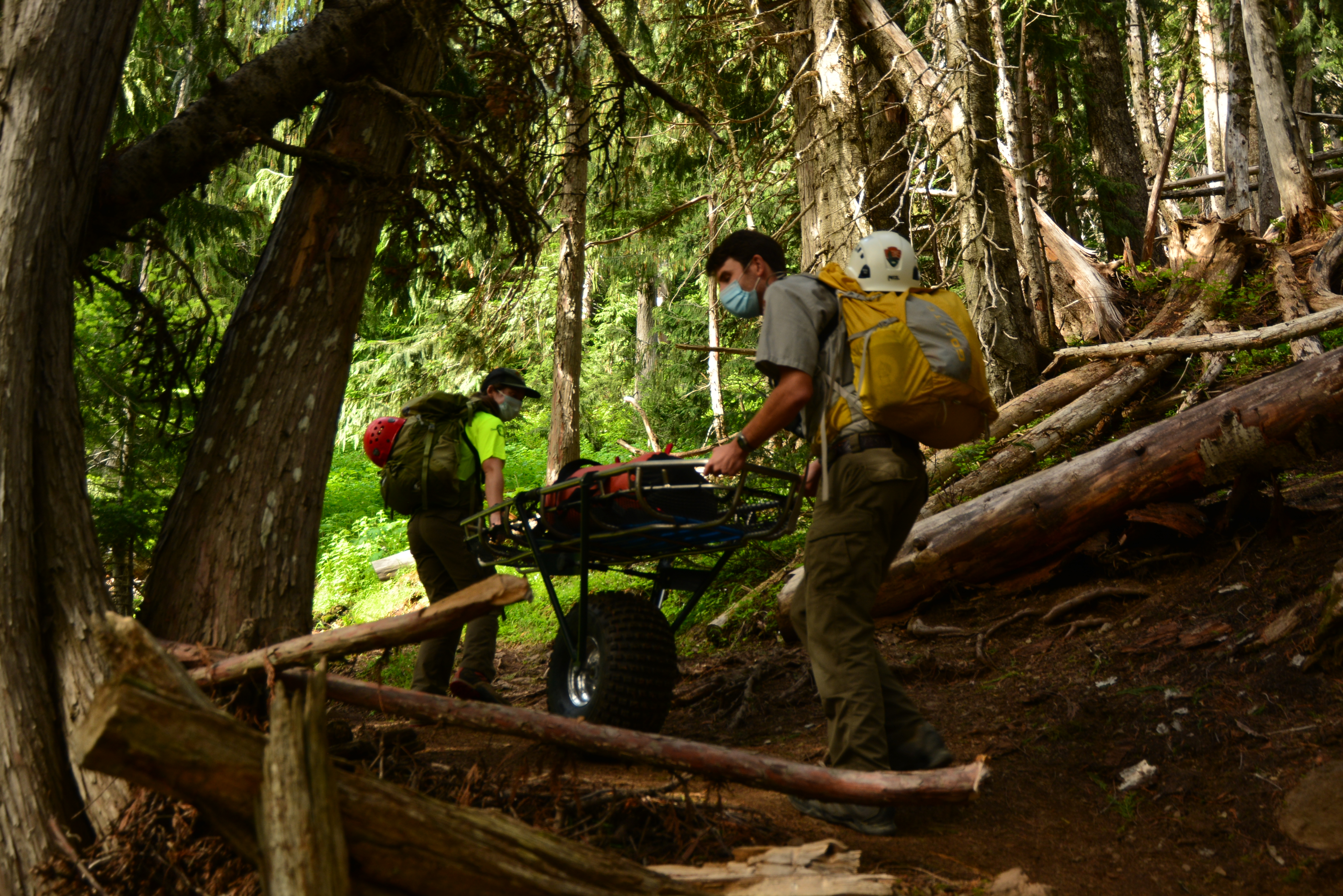 News Release Date:
August 5, 2020
Contact: Penny Wagner, 360-565-3005
Olympic National Park has had a total of 39 Search and Rescue (SAR) incidents in 2020 so far, with 22 in the month of July. In 2019, the park had a total of 84 SAR incidents with 17 in the month of July. 
Visitors are urged to plan ahead, hike smart, pack the 10 Essentials, and have an emergency plan even for a day hike. Consider learning CPR and basic wilderness first aid, especially if you are planning to hike in the backcountry. Leaving an accurate itinerary with an emergency contact is critical for any trip in the backcountry. Navigation—map, compass, and GPS system—is one of the 10 Essentials.  
Navigation systems are used when planning your route before your trip and when you need help orienting yourself in your surroundings during your activity. Know how to use a topographical or relief map as well as your compass or GPS unit before going out. When your trip is on primitive trails or requires cross-country travel, often in steep and rugged terrain, these tools are even more essential. Route-finding and safety skills are paramount in the wilderness. Many popular wilderness GPS apps show trails that are no longer in existence or off-trail routes that are never maintained. Always check beforehand if you are unsure what kind of trail or route you will be using. 
The NPS conducts thousands of search and rescues servicewide each year, many of which could be avoided with visitors planning and making responsible decisions. During the ongoing health crisis, it's critical that we make wise choices to keep our national park rangers, first responders, and search and rescue volunteers out of harm's way.  
Here are a few tips to remember when planning your wilderness trip: 
Always leave an itinerary of your hike with family or friends and stick to it. Make sure they know who to contact if you are overdue.  
Plan for emergencies. Do not rely on a rescue. A rescue may be difficult or impossible due to weather conditions or terrain. Carry first aid gear and other emergency or self-rescue equipment. 
Know what to expect. Learn about the potential risks including steepness of route, trail conditions, weather conditions, snow conditions, avalanche danger, and equipment needed and take adequate precautions.  
Know how to navigate. Track your location using a map and compass. If you encounter trouble, do not be afraid to turn back. Before hiking cross-country, know how to navigate in any weather condition (heavy fog, snow, and rain). 
If you have questions about booking your permit through recreation.gov for sites not listed or if you need help with trip planning, contact the Wilderness Information Center by phone at 360-565-3100 or email olym_wic@nps.gov. 
Whether you're planning a backpacking trip or a day hike, please remember to Recreate Responsibly. Follow Centers for Disease Control and Prevention (CDC) guidance to reduce the spread of COVID-19 and practice Leave No Trace principles when you visit.  
Know before you go. Visit NPS.gov/olym for current park conditions. Make a plan, follow the 10 Essentials, and if you are sick, stay home.  
Keep it close. Follow the state and county orders governing the open status of the area you're considering visiting. The National Park Service is working closely with governors and state and local health departments as we increase access and services across the National Park System.
Keep your distance. Recreate with the people in your household. Give others plenty of room whether you are on a trail, at a boat launch, or in a parking lot. Follow the CDC social distancing guidelines for staying six feet away from others. Be prepared to cover your nose and mouth if you're near others.  
Know your limits. Postpone challenging hikes or trying new activities while first responders, parks, and communities continue to concentrate on responding to the pandemic.    
Keep it with you. If you brought it, take it with you. Follow Leave No Trace principles.   
Keep it inclusive. Be an active part of making our nation's parks and public lands safe and welcoming for all identities and abilities. 
For information on planning a backpacking trip in Olympic National Park check out the 
Wilderness Trip Planner guide
 on the park website. 
For information on planning ahead and staying safe while visiting and hiking in national parks visit 
nps.gov/subjects/trails/hiking-safety.htm
.  

--NPS-- 
Last updated: August 5, 2020