News Release
Olympic National Park Visitor Center and Wilderness Information Center Renovation Complete; Set to Reopen Tuesday, May 22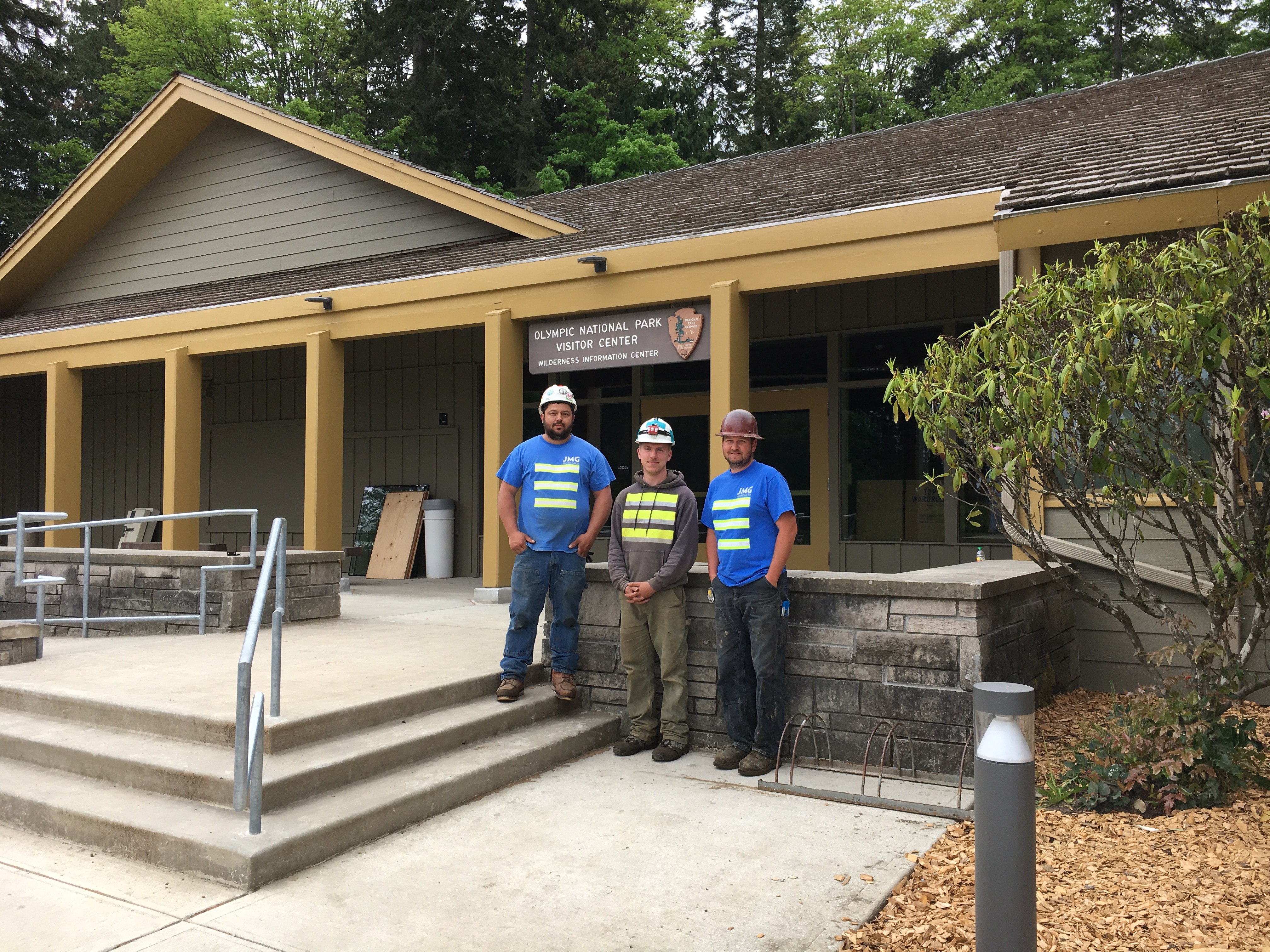 News Release Date:
May 18, 2018
Contact: Penny Wagner, 360-565-3005
No Visitor Center facilities available Monday, May 21 During Final Move
PORT ANGELES, WA: The Olympic National Park Visitor Center (ONPVC) and Wilderness Information Center (WIC) in Port Angeles will reopen to the public Tuesday, May 22 following an eight-month renovation project.
The temporary visitor center facilities will be closed Monday, May 21 to relocate these operations back to the main building at 3002 Mount Angeles Road.  The ONPVC will re-open to the public at 9:00 am Tuesday, May 22nd.
On Monday, May 21, when both park visitor center facilities in Port Angeles are closed to accomplish the final move, portable toilets and park brochures will be available at the temporary facilities at 600 E. Park Avenue. Backcountry campers can also return borrowed bear cans to the drop bin or pick up self-registration permits at that location as well.
The $3,393,241 contract was awarded to Walker River Construction of Shurz, NV. Walker River hired local business JMG Constructors, LLC of Keyport, WA as the major subcontractor on the project. To complete the project, many local and Washington state contractors were involved including Olympic Electric (Port Angeles), Schmitt's Sheet Metal (Port Angeles), Lakeside Industries (Port Angeles), Ken's Quality Hardwood Flooring (Port Angeles), Angeles Communications (Port Angeles), Everlasting Hardwood Floors (Port Angeles), United Test & Balance, Inc. (Port Townsend), Moon Construction Specialties (Sequim), Fox Fire (Port Orchard), Commercial Displayer's (Seattle), Extreme Flooring (Seattle), Harris Concrete Finishing (Bremerton), Coastal Services (Bellingham), and Engle Plumbing (Indianola).
The ONPVC renovation project, largely funded through entrance fees, brought the facility into compliance with the Architectural Barriers Act accessibility standards and current life/safety codes; improved energy efficiency; and improved visitor and employee health and safety. A new exterior restroom facility was also added between the parking lot and the ONPVC to address increased park visitation.
The renovation included replacement of the heating and ventilation systems; replacement of existing single-pane windows with double-pane windows; electrical, plumbing and seismic upgrades; replacement of light fixtures with efficient LED lighting; renovation of the existing interior restrooms; installation of a fire suppression system; installation of additional insulation; connection to the city sewer system; replacement and repair of exterior concrete sidewalks and ramps; flooring and door replacement; installation of new interior signage; and exterior painting.
"Improving energy efficiency, accessibility and safety, along with the new exterior restroom and facility upgrades, will enhance the visitor experience at our main visitor center," said park Superintendent Sarah Creachbaum. "We appreciate the fine work of local companies and are excited to reopen the visitor center to the public just in time for the 2018 summer season."
The ONPVC and WIC closed to the public September 5, 2017 and relocated temporarily to two double-wide modular buildings on the front lawn of park headquarters which will be removed in the next few weeks. The ONPVC, originally named the Pioneer Memorial Museum, was built by several vocational carpentry classes from the local Roosevelt High School. Construction was completed in 1957. There have been several additions to the building but no major upgrades since its construction. 
For current road and travel information, visitors can consult the park website at
www.nps.gov/olym
or call the recorded Road and Weather Hotline at 360-565-3131.
Last updated: May 18, 2018