News Release
Olympic National Park Receives Field Trip Grant from the National Park Foundation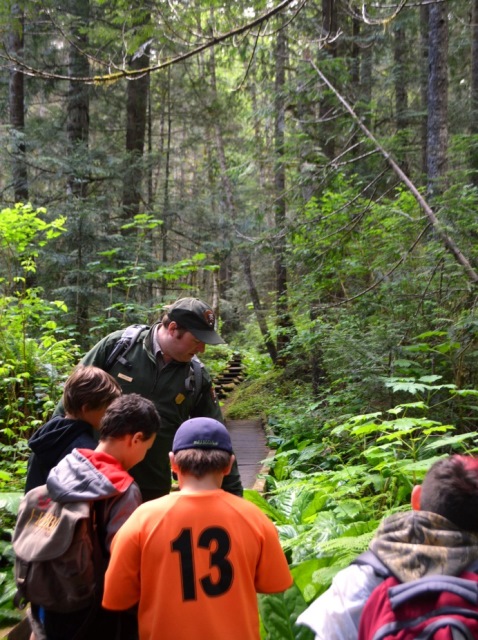 News Release Date:
May 10, 2018
Contact: Penny Wagner: NPS, 360-565-3005
Contact: Alanna Sobel: National Park Foundation, 202-796-2538
Olympic National Park
Receives Field Trip Grant from the National Park Foundation
Port Angeles, WA – 
Olympic National Park was selected to receive a 2017-2018
field trip grant from the National Park Foundation, the official charity of America's national parks.
T
he grant will cover transportation costs for third and fourth grade classes from three local school districts to explore the park and learn about forest ecology.
Olympic National Park is using the grant to offer Ecosystem Olympic Explorations! These springtime field trips will bring 3rd and 4th grade classes from the Port Angeles School District and 4th grade classes from the Quillayute Valley and Sequim school districts into the park for a curriculum-based education program.
Students will explore the forest ecosystems of the park looking for clues to the interactions that shape our forests.
This grant, part of the Foundation's
Open OutDoors for Kids program
, supports
Every Kid in a Park.
"I can still remember the excitement of exploring my first national park as a kid and it made me want to discover more," said National Park Foundation President Will Shafroth. "I'm thrilled that our National Park Foundation grants make it possible for hundreds of thousands of kids to experience the wonder of parks for the first time, sparking a lifelong love for national parks."
For the full list of grantees and their projects, click
here
.
To learn more about educational opportunities at Olympic National Park for teachers, parents, scout and youth leaders, and community organizations visit
www.nps.gov/olym/learn/education/index.htm
.
About the National Park Foundation
Celebrating 50 years, the National Park Foundation is the official charity of America's national parks and nonprofit partner to the National Park Service. Chartered by Congress in 1967, the National Park Foundation raises private funds to help PROTECT more than 84 million acres of national parks through critical conservation and preservation efforts, CONNECT all Americans with their incomparable natural landscapes, vibrant culture and rich history, and ENGAGE the next generation of park stewards. In 2016, commemorating the National Park Service's 100th anniversary, the Foundation launched The Centennial Campaign for America's National Parks, a comprehensive fundraising campaign to strengthen and enhance the future of these national treasures for the next hundred years. Find out more and become a part of the national park community at 
www.nationalparks.org
.
About Olympic National Park
The National Park Service cares for special places saved by the American people so that all may experience our heritage. With its incredible range of precipitation and elevation, diversity is the hallmark of Olympic National Park. Encompassing nearly a million acres, the park protects a vast wilderness, thousands of years of human history, and several distinctly different ecosystems, including glacier-capped mountains, old-growth temperate rain forests, and over 70 miles of wild coastline.
###
Last updated: May 10, 2018