News Release
Emergency Closure on Olympic Hot Springs Road for Flood Damage Repair to River Bank near Madison Falls Parking Area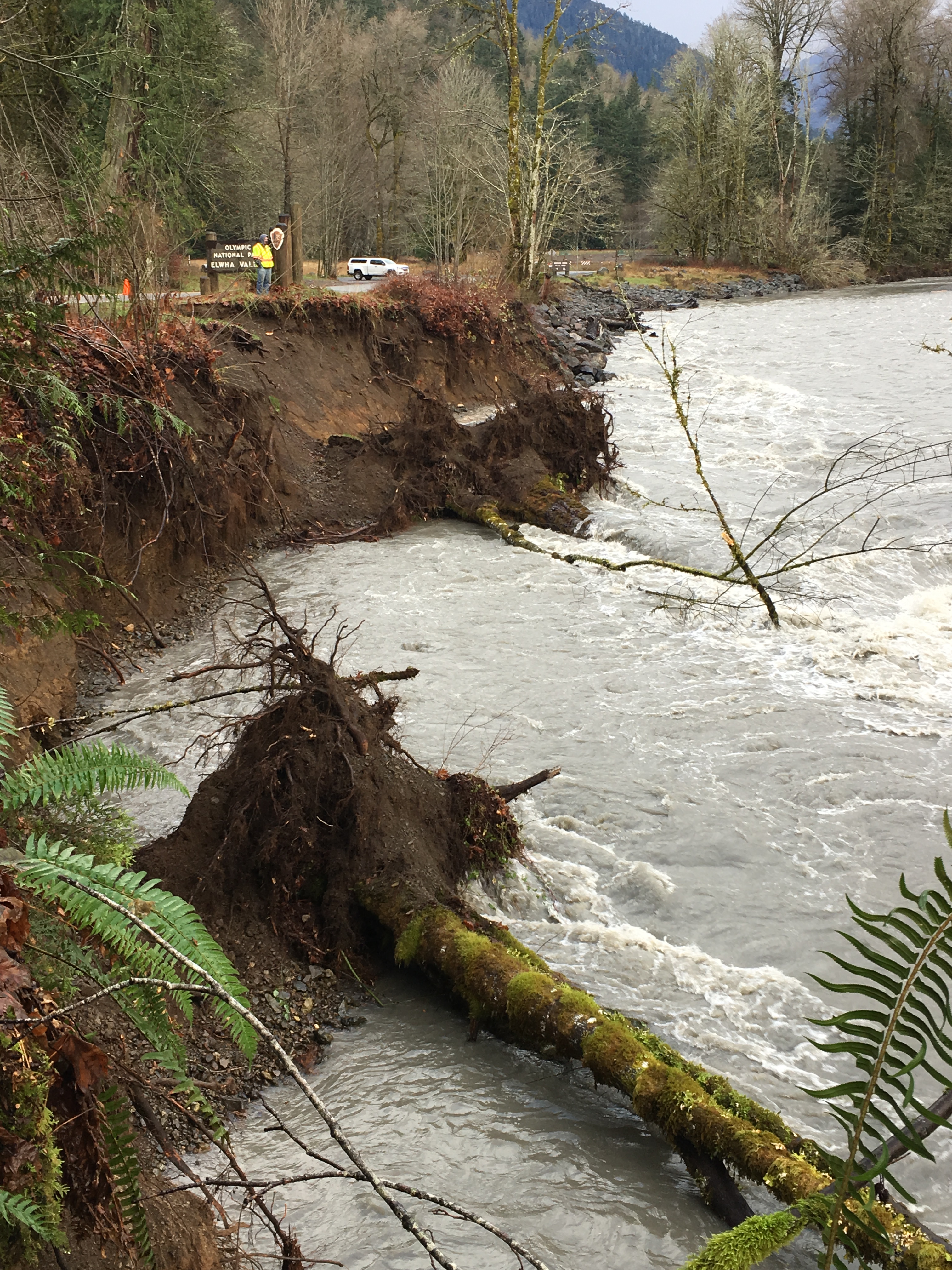 News Release Date:
November 28, 2018
Contact: Penny Wagner, 360-565-3005
Heavy rains on Monday and Tuesday this week resulted in flooding and river bank erosion on the Elwha River near the Madison Falls parking area on Olympic Hot Springs Road. The road is now closed to all public access while the park road crew completes necessary work to protect the road from being undercut by further erosion. Madison Falls parking area will be inaccessible over the next two to three weeks until the work is completed.
The recent storm resulted in 7-8 inches of rain and increased flows which peaked at roughly 12,000 cfs. The repair is estimated to cost $60,000 for the materials, equipment, and labor.
The park is in the planning process for the future of the Olympic Hot Springs Road to address long-term, sustainable access. The first step was to complete an Environmental Assessment (EA) for a geotechnical investigation in order to determine the engineering feasibility of a potential road relocation. This EA was completed and a Finding of No Significant Impact (FONSI) was released in late September. The geotechnical investigation and installation of monitoring instruments occurred over the last two months.
Initial monitoring results have indicated that relocating the one-mile section of road near Sander's Creek would be feasible. Monitoring and data collection will continue into next year. The next step to address long-term access for the Olympic Hot Springs Road is to analyze the potential road relocation in a separate EA. Civic engagement for the next EA is anticipated to begin in December 2018.
The upcoming EA will analyze various options including modifying the current roadway or relocating it outside the floodplain, one of which will be implemented in 2020-2021.
This week's storm event also resulted in additional road closures across the park. The Upper and Lower Queets Road closed due to high winds and downed trees. The Quinault North Shore Road was closed on Monday near the 900 block due to a downed tree and power lines across the road. Upper Queets Road has now reopened to the campground and North Shore Road was cleared and opened. Lower Queets Road remains closed for additional clearing.
For current road and travel information, visitors should consult the park website at
www.nps.gov/olym
or call the recorded Road and Weather Hotline at 360-565-3131.  
Last updated: November 28, 2018