Special Use Permits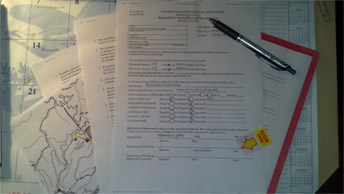 Providing opportunities for appropriate public enjoyment is an important part of the National Park Service mission. Approval of any special uses of the park-unrelated to public enjoyment-may be allowed if not otherwise prohibited by law or regulation. However, the National Park Service can only allow uses that are (1) appropriate to the purpose for which the park was established, and (2) can be sustained without causing unacceptable impacts.
Learn and Explore
APPLICATIONS SHOULD BE SUBMITTED NO LATER THAN THE FOLLOWING:
WEDDINGS
If no more than 25 persons will be at the event—2 weeks prior to the event.
If more than 25 persons will be at the event—8 weeks prior to the event.

RACE EVENTS
Events that will take place on existing approved trails—8 weeks prior to the event.
Events that need additional environmental compliance (such as river races)—1 year prior to the event.

All other requests should be processed within 30 days if the application is complete and without alteration. Requests involving multiple locations, complex logistics, or coordination with other visitor activities will require a minimum of 30-45 days to process.

A non-refundable application fee of $50 is required. Pay online through Pay.Gov or mail in payment. Additional administrative, location and/or cost recovery fees may also be charged.  
Incomplete applications may be returned to the applicant, along with the application fee, without action. The Park will attempt to reach the applicant to resolve minor issues but may return the application without action if unable to reach the applicant over three business days. Applicants are encouraged to provide reliable daytime telephone contact information.
Film Permits are provided on an individual basis. On May 15, 2006 the National Park Service established procedures and guidelines for the issuing of commercial film and still photography permits in units of the National Park Service. For commercial filming as defined by those guidelines, there is a permit fee. Contact the park for specific permit information. 
Permits are only required for still photography if they involve one or more of the following:
(1) the use of models, props, and/or sets;
(2) that takes place in an area where and when members of the public are not allowed;
(3) the agency would incur costs for providing on-site management and oversight to protect agency resources and minimize visitor use conflicts.
Last updated: October 31, 2019