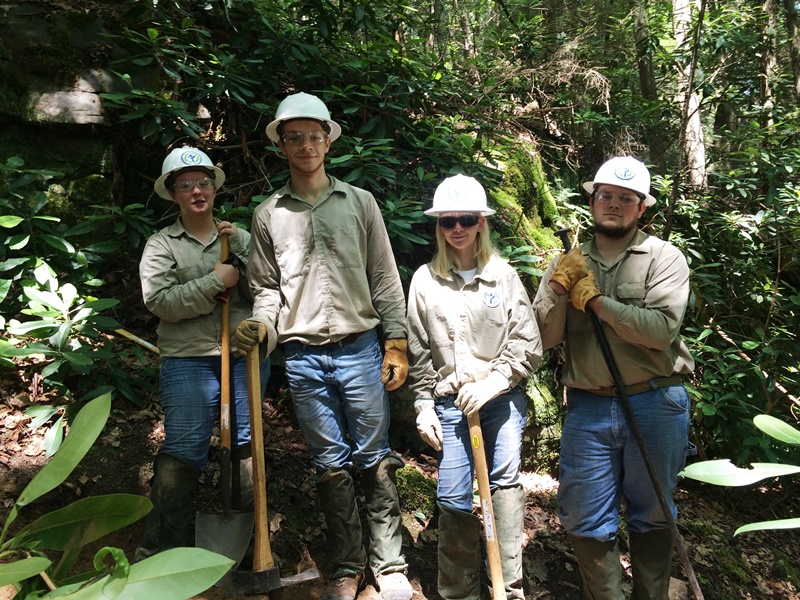 News Release Date:
August 26, 2015
Contact: Wallace Linder, 423-569-9778
Contact: Chris Derman, 423-569-9778
Four high school students from Morgan County recently finished the summer working on a Youth Conservation Corps (YCC) team at the Obed Wild and Scenic River. The crew members were selected from Morgan Central High School and included Franklin Bunch, Savannah Christian, Cydney Seiber and Zachary Smith. These young adults spent this summer working alongside crew leader Chris Carson, and other National Park Service employees, improving trails in the Lilly Bluff Overlook, Point Trail, and Boulder Field Trail areas of the Obed Wild and Scenic River. Participants gained general work experience as well as specialized skills in trail maintenance and stone/rock masonry.
The Youth Conservation Corps is a summer employment program for young men and women, ages 15 through 18, to work on projects to protect public lands. The Youth Conservation Corps program is one that trains young people and provides outdoor work that is supervised by a trained crew leader. Participants gain valuable professional experience working on National Park Service lands and learn how to use tools, safe work habits, teamwork, and how conservation projects benefit the environment and protect cultural and historical resources.
For further information about this program and its accomplishments, call Wallace Linder at (423) 569-9778.