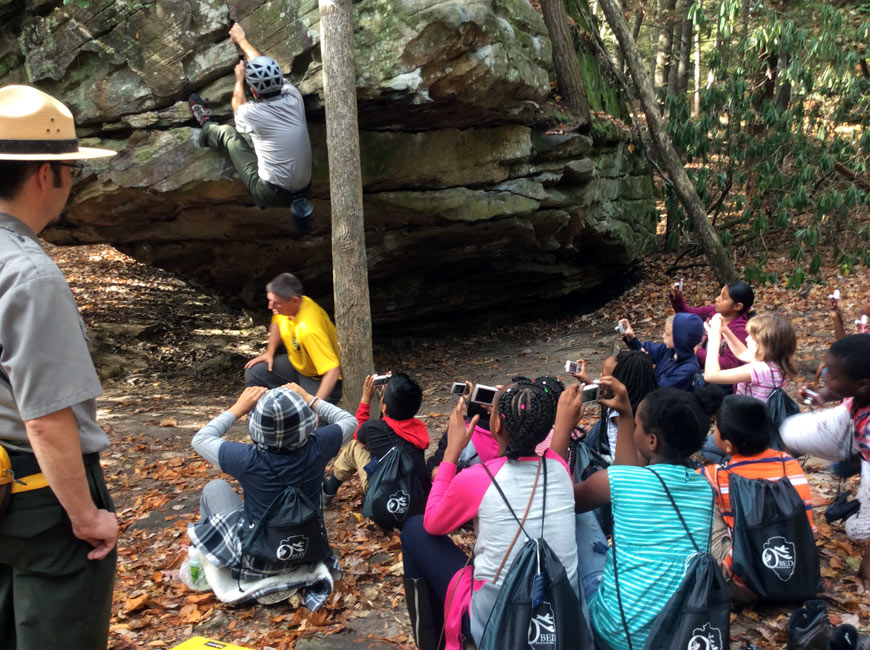 News Release Date:
October 31, 2016
Contact: Veronica Greear, 423-346-6294
Contact: Daniel Banks, 423-286-9059 x29
During the month of October, urban fourth graders from Lonsdale Elementary School participated in "Opening Doors in National Parks through Nature-Based Learning, Outdoor Recreation, and Photography" at Obed Wild and Scenic River.
Through an Every Kid in a Park grant that was awarded to Obed this spring through the National Park Foundation, the park reached out to a new audience of diverse youth and introduced students to national parks, and Obed Wild and Scenic River through outdoor recreation, nature-based education, and photography.
This unique learning opportunity was created through the Udall Foundation's Parks in Focus® program which has been connecting youth from underserved communities to nature though photography and outdoor learning since 1999. 
Through field trips to the park, youths were exposed to hiking in the forest, seeing building-free vistas, visiting rock shelters, and using digital cameras to create their own memories -- all new concepts for these students. Field trips to the park created new adventures and a sense of discover.
Upon arrival, each student was issued a digital camera and introduced to basic photography concepts such as subject, focus, and perspective. Throughout the day, fourth graders captured photographs that showcased the flora and fauna of the Obed, as well as classmates enjoying their experiences.
Students learned about geology of the Cumberland Plateau, the interdependence of forest life, and heard stories of the past as they sat in archaeologically-significant rock shelters. They were also introduced to new recreational opportunities as they watched ranger-led demonstrations of bouldering and rock climbing. Behind the lenses of their cameras, students were introduced to the natural world, recreational opportunities while increasing their appreciation for their environment. 
During the post-site visit, all 73 students received their Every Kid in a Park pass and were sworn in as official Obed Junior Rangers. Students reflected and discussed their experiences at Obed through poetry. This language arts activity resulted in the creation of poems entitled, "Spiders" and "Nature."
The finale of the visit was watching the enthusiastic students view a video that was created using their photographs.