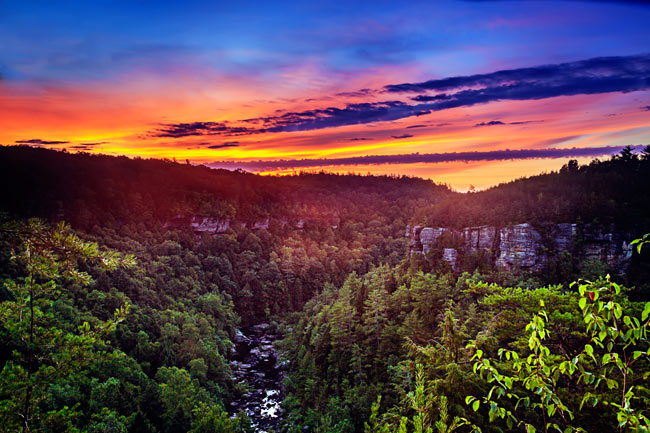 News Release Date:
August 31, 2015
Contact: Christopher Derman
Contact: Veronica Greear
The National Park Service celebrated its 99th birthday on August 25. In honor of this milestone, Obed Wild and Scenic River recently hosted a combined birthday celebration and unveiling of the winners of the park's fourth annual photography contest. The Art-in-the-Park reception celebration featured refreshments, complete with birthday cake, and live music by Shelter Road Band.
The entrants for the Art-in-the-Park photography contest submitted photos in five categories the winners were announced at the August 21 event:
Action/Adventure – Rick Ryan of Clinton, Tennessee with Lowering on Christine
Artistic – Michael Foster of Elgin, Tennessee with The Waters at Nemo
Flora/Fauna – Peggy Yaeger of Corbin, Kentucky with Spicebush Blossom
Landscapes – Janine Johnson of Loudon, Tennessee with Golden Hour at Lilly Overlook
Youth – Elijah Ruppe of Oakdale, Tennessee with Fungus
Several photographs received honorable mention including:
Bryleigh Stafford of Wartburg, Tennessee with Mushroom
Paul Schubert of Harriman, Tennessee with Autumn Color
Michael Foster of Elgin, Tennessee with Silhouettes of Night
Janine Johnson of Loudon, Tennessee with Leaning Tree Rapids
Monte Seymour of Corryton, Tennessee with Smooth as Silk
During the Art-in-the-Park reception, guests were able to view the photographs submitted for this year's contest, and cast ballots for the People's Choice category. The winner of this category was Larry Coffee, of Stearns, Kentucky with Nature's Painting.
The momentum is starting now, as we approach the 100th year anniversary of the National Park Service in 2016. Park Superintendent Niki Stephanie Nicholas announced the kickoff for the fifth annual photography contest at the recent photo reception."We want to encourage park visitors to capture the artistic beauty of the places in the Obed that inspire all of us." The 2016 photo reception will be held on 100th birthday of the National Park Service on Thursday, August 25, 2016. The deadline for the photograph submissions will be on July 15, 2016.
The winning photos can be found on display at the Obed Visitor Center, located at 208 North Maiden Street in downtown Wartburg. You may also view them by clicking here.
For more information, please contact the park at 423-346-6294.