Obed Wins Keeper of the Light Award for Climbing Program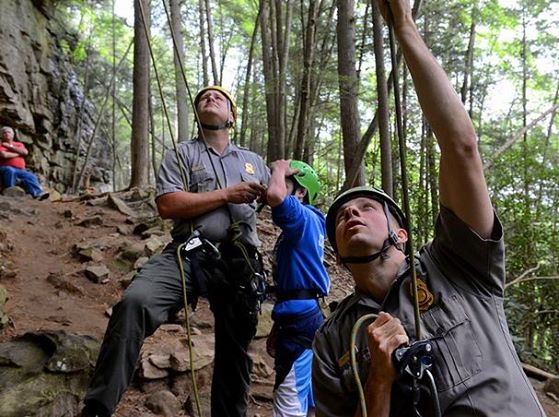 News Release Date:
November 10, 2015
Contact: Matt Hudson
Contact: Christopher Derman
Obed Wild and Scenic River was recently awarded the prestigious Keeper of the Light award for Interpretive Support. The Keeper of the Light Award is the highest honor bestowed by the National Park Service Division of Interpretation and for the Southeast Region. Obed received the award for their monthly "Climb with a Ranger" program which offers an introduction to rock climbing to participants regardless of age or experience level.
Keeper of the Light Award was established in 2001, to recognize parks that have excelled in interpretive efforts and in collaboration with other park divisions in support of reaching out to the visiting public with interpretation and educational messages, interpretive support, and special events.
The first "Climb with a Ranger" program occurred in early 2013. Since that time the program has allowed approximately 2,000 participants to experience an activity that they might not have been able to experience in a venue that draws rock climbers from around the world to Morgan County. 
"We are proud of this award and would like to especially thank our volunteers," said Superintendent Niki Stephanie Nicholas. "Without their assistance, staff would not be able to meet the demand of this extremely popular program." 
"Climb with a Ranger" is conducted every first Saturday of the month regardless of most weather conditions. All necessary gear is provided. Individuals who are interested in learning more are encouraged to contact the park visitor center at (423) 346-6294.
Last updated: June 3, 2016