Date:
April 8, 2015
Contact:
Chance Hall
, 423-346-6294
Contact:
Matt Hudson
, 423-346-6294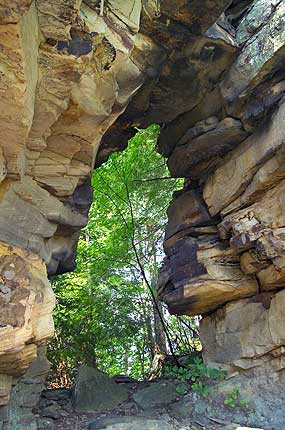 In celebration of the National Park Service's upcoming centennial in 2016, the Obed Wild and Scenic River has initiated a monthly Healthy Hike with a Ranger program which provides visitors with opportunities to improve their health and learn more about their national parks. This month's healthy hike will be a 3.8 mile hike out the Point Trail. Participants should meet Ranger Hall at 1 p.m. (EDT) in the Lilly Overlook parking area on Saturday, April 18, 2015.
The Point Trail includes some moderate changes in elevation. Along the way, the trail crosses the rushing cascades of Melton Mill Branch on a bridge nestled deep within the hush of the hemlock forest canopy between impenetrable green walls of laurel and rhododendron. The trail culminates on the narrow, exposed ridge that separates the Obed River from Clear Creek before the two flow together. In places hikers can look down on either side and see the two streams hundreds of feet beneath them, the distant roar of the rapids resounding off of the canyon walls. Observant hikers who look carefully on their right near the end of the trail may find a faint path which leads up to a natural sandstone arch hidden on the ridgetop.
Participants should wear weather appropriate clothing, bring plenty of water, and bring anything else needed for the hike. For more information, please contact the park at (423) 346-6294.