Date:
January 5, 2015
Contact:
Chance Hall
, 423-346-6294
Contact:
Matt Hudson
, 423-346-6294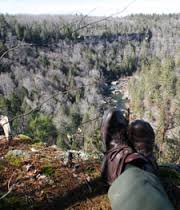 In celebration of the National Park Service's upcoming centennial in 2016, the Obed Wild and Scenic River announces it's first in a series of healthy hikes starting on Saturday, January 10, 2015. The Obed Healthy Hikes will provide the public with ranger-led activities that will allow park visitors the opportunity to further discover our national parks.
Participants meet at 1 p.m. EST in the Lilly Overlook parking area on January 10. Ranger Hall will lead this 3.8 mile hike out on the Point Trail. Participants should wear weather appropriate clothing, bring plenty of water, and bring anything else needed for the hike. Feel free to bring along well behaved dogs on leashes. Questions and curiosities are always welcome along the way!
Honor that New Year's resolution to get fit and stay in shape without having to join a gym. For more information, please contact the park at (423) 346-6294.