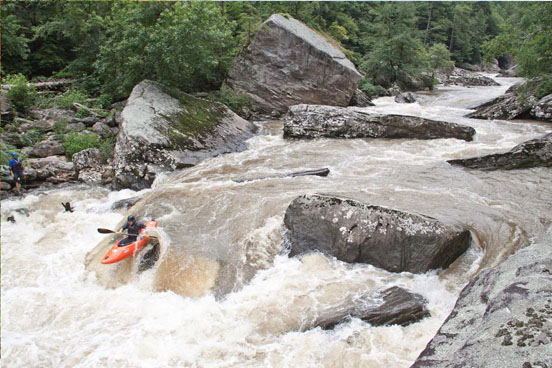 News Release Date:
April 13, 2015
Contact: Matt Hudson, 423-346-6294
Contact: Effie Houston, 423-569-9778
In celebration of National Park Week and the upcoming National Park Service Centennial in 2016, the Obed Wild and Scenic River will be hosting a reception and gala book signing event on Friday, April 24. The event will start at 5:00 p.m. (EDT) at the Obed Visitor Center, located at 208 North Maiden Street in downtown Wartburg. The authors will be on hand to autograph two unique books which feature the Obed Wild and Scenic River and the Big South Fork National River and Recreation Area.
Master nature photographer Byron Jorjorian has compiled over 90 of his color photographs in "Treasure Untold: Uncovering Masterpieces of Nature Across Tennessee." This hardcover coffee tablebook has 116 pages filled with stunning photographs taken across the state and with text written by Paul Kingsbury, director of communications for The Nature Conservancy in Tennessee. Jorjorian has had his work featured in prominent national publications such as National Geographic and Time.
Avid whitewater boater and Knoxville-resident Kirk Eddlemon will also be on hand to autograph his "Whitewater of the Southern Appalachians, Volume 1: The Plateau." Eddlemon's book is a comprehensive guide to more than 150 whitewater streams and is an invitation to explore a lifetime of potential river experiences in the canyons of the Cumberland Plateau. Not just a guide, Eddlemon's book is filled with inspiring photographs, regional history, information about water levels and river lore from local paddling legends. Eddlemon has many first whitewater descents to his credit and serves as an instructor with Ace Kayaking School.
The park will also be taking this event to gather feedback from the public as centennial celebrations are being planned. Reception attendees will be encouraged to provide input on topics such as why Obed is important to them, what are their favorite park activities, and what else would they like to see at the park.
The two hour reception will include music and light refreshments. Please contact the park at (423) 346-6294 for further details and information.