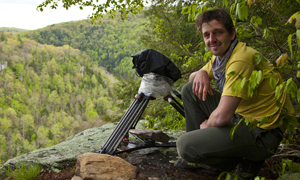 News Release Date:
April 2, 2014
Contact: Matt Hudson, 423-346-6294
Contact: Dave Carney, 423-569-9778
The Obed Wild and Scenic River announces the premiere of its new park movie on Friday, May 23, from 5:00 to 6:30 p.m. (EDT) at the park's visitor center, located at 208 North Maiden Street in downtown Wartburg,  Tennessee.The film, which lasts approximately fifteen minutes, will be shown every half-hour, with live musical interludes by the Shelter Road Band.  This new park movie was more than a year in the making, with footage shot across all four seasons and featuring many of the park's most prominent outdoor activities such as hiking, rock climbing, whitewater paddling, fishing and camping.  To capture the heart of the Obed Wild and Scenic River and its spectacular scenery, the Silver Fir Media film crew braved ice storms, Class IV rapids and the park's steeply overhanging cliffs to give visitors a glimpse of the park like never before seen.  The result is an unconventional, artistic and breathtakingly intimate look into the heart of a park whose beauty is inseparably linked to its remoteness and inaccessibility.
Visitors are encouraged to join park staff as they roll out the red carpet for an evening of live music, popcorn and refreshments and the unveiling of a truly unique short film.  This is a free event, and no reservations are required.Please contact the park at (423) 346-6294 for further details and information.