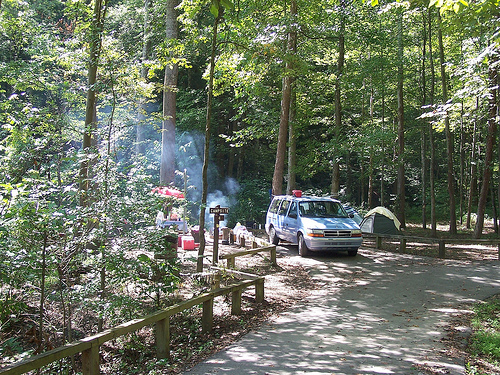 News Release Date:
June 6, 2016
Contact: Letitia Neal, (423) 569-9778
Contact: Chris Derman, (423) 569-9778
Obed Wild and Scenic River is proposing to increase the nightly fee rate at Rock Creek Campground on October 1, 2016. At the same time, the park will also add a feature that allows visitors to reserve, in advance, campground sites by phone or internet as well as in person.
Rock Creek Campground is located six miles from Wartburg, Tennessee, next to the Emory River. The campground was renovated last year, and there are 11 non-hookup sites total with two that are ADA accessible. Each site has a picnic table, food storage locker, fire ring with grill, lantern hook and paved parking. A vault toilet is also centrally located in the campground.
The rate per night for camping is currently $7, and there has been no increase in price since 1995. The proposed fee is $10 per night based on the comparability reports for similar operations near the area, and the increase is needed for funds to maintain and improve facilities and infrastructure and pay for campground reservation coordination on the National Recreation Reservation System.
If you have comments or questions about the proposed action to increase the nightly fee rate and add Rock Creek Campground to the National Recreation Reservation System, contact the park superintendent by calling (423) 346-6294, emailing the park at e-mail us, or by writing: 
Obed WSR Superintendent
P.O. Box 429
Wartburg, TN 37887