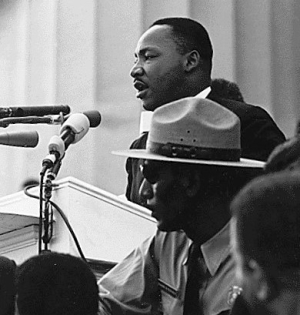 News Release Date:
January 5, 2015
Contact: Letitia Neal, 423-569-9778
Contact: Matt Hudson, 423-346-6294
The third Monday in January has been a federal holiday since 1986, in observance of the birthday of Martin Luther King Jr., a Baptist minister, Nobel Peace Prize winner, and civil rights leader dedicated to nonviolence. This is a day to honor King's principles, perhaps best exemplified by his famous "I Have a Dream" speech, delivered on the steps of the Lincoln Memorial on August 28, 1963. The Big South Fork National River and Recreation Area and the Obed Wild and Scenic River will be observing Martin Luther King, Jr.'s, Birthday on Monday, January 19, by authorizing one night of free camping at Alum Ford and Rock Creek Campgrounds as well as free backcountry permits.
Other fee free days during 2015 include February14-16 to commemorate Presidents Day weekend, April 18-19 to celebrate the opening weekend of National Park Week, August 25 to celebrate the National Park Service birthday, September 26 to observe National Public Lands Day, and November 11 in honor of Veterans Day.
For more information, contact the Bandy Creek Visitor Center at (423) 286-7275 or the Obed Wild and Scenic River Visitor Center at (423) 346-6294. Visit https://www.nps.gov/findapark/feefreeparks.htm to learn more about fee free days in 2015.