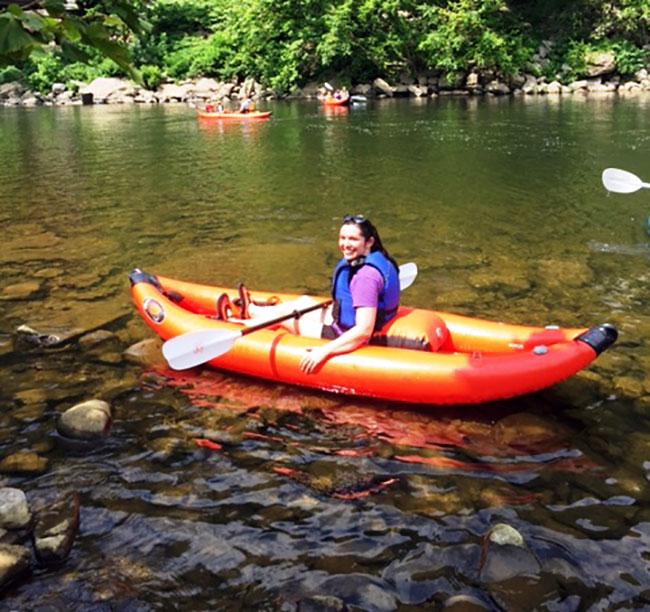 News Release Date:
August 10, 2017
Contact: Daniel Banks, (423) 286-7275
Contact: Christopher Derman
On July 21, Paige Byrd concluded her Teacher-Ranger-Teacher (TRT) experience at Obed Wild and Scenic River. An English as Second Language teacher at Oakdale Elementary School in Wartburg, Tennessee, Paige worked as Obed's TRT where her main focus was to create new educational resources that highlighted the diverse plants and animals within the park. She created a new lesson plan which will introduce students to several species of animals, their adaptations and the different habitats found within the Obed WSR.

As to why Paige applied, she said, "I applied to be a TRT because I am always looking to expand my skills and knowledge. As a teacher, I am always searching for new opportunities that allow me to gain ideas to share with my students. I love the outdoors and really wanted a chance to be able to learn more about the national parks."

When asked what her experience as a TRT was like, she said, "The experience far exceeded my expectations. I loved being out in the park, meeting all the rangers, learning about our national parks, and gaining an experience I will never forget. As a teacher, we don't always get to go out into the field and learn through hands-on methods. We are often the ones providing the instruction. The TRT program allowed me to experience the parks like a student would.  I will be able to take my experiences back to my classroom and also share what I learned with my colleagues so that they can enrich their classrooms. I am very thankful I applied, got the position, and had one of the best experiences imaginable."

The TRT program is a professional development opportunity for K-12 teachers to spend the summer acquiring new skills in experiential learning through a program provided by a partnership between the National Park Service (NPS) and the University of Colorado at Denver (CUD). The participants spend between four and six weeks in an NPS unit developing a major educational project and participating in an online graduate course from CUD.  

The Teacher-to-Ranger-to-Teacher program is an extended professional development opportunity for teachers to connect with national parks through a summer work experience. Teachers selected as teacher-rangers spend the summer performing various duties depending on their interests and the needs of the park. The Teacher-Ranger-Teacher program allows parks to reach teachers and students who have had little or no experience with a national park setting and provides opportunities to explore the relevance that National Park Service sites can have in their lives.